David Haye wants to 'punish' Dereck Chisora this Saturday

Last updated on .From the section Boxing
David Haye has vowed to "punish" British heavyweight rival Dereck Chisora when they meet at Upton Park on Saturday, despite weighing-in 37lbs lighter than his opponent.
Haye scaled 210lbs at a feisty weigh-in, the lightest he has been for any of his six heavyweight fights, with Chisora totalling 247lbs.
"He's not a nice man," said Haye. "He's a horrible, spiteful man and a bully.
"The law hasn't punished him, so it's left to me to punish him."
Former world champion Haye clashed with Chisora at a news conference in Munich in February, paving the way for the controversial fight.
They have since met four times at different events in the lead-up to their fight, and have always been separated by a steel fence.
Chisora, three years younger than Haye at 28, has a weight advantage of more than two-and-a-half stone and he countered Haye's claims in the build-up by saying: "I'm going to be crazy, mental. My medication is wearing off now.
"He's got speed for one round - after I dance with him he's not going to have any speed. I know for a fact [there are question marks over his stamina] and we'll find that out."
Haye and Chisora came to blows following the latter's WBC world title defeat by Vitali Klitschko, before Chisora threatened to shoot his domestic rival.
Chisora also slapped Vitali at the weigh-in and spat water in the face of his opponent's brother, Wladimir, moments before the bout.
Neither boxer currently holds a British boxing licence - Haye was officially retired at the time of the brawl while Chisora's was consequently revoked by the British Boxing Board of Control - and the fight has been sanctioned by the Luxembourg Boxing Federation.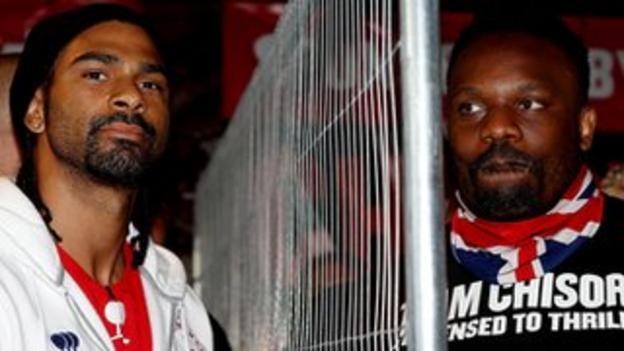 But Haye said the crowd of 30,000-plus expected at West Ham United's ground on Saturday - 29,000 tickets have been sold - proved those condemning the bout were wide of the mark and that "everyone wants to see this fight".
Haye told BBC Sport: "There are a few journalists who are appalled by it and they're trying to pass their opinions onto the public, but the public aren't buying it.
"It's huge. They've seen us do it at a press conference, but they want to see us do it for real, toe to toe, a slug-fest.
"People talk about the controversy surrounding this fight but the bottom line is it's two people getting into the ring and having a boxing match.
"And if you look at our styles they will gel, it will be an exciting fight and the crowd will get their money's worth.
"Chisora is getting knocked out quick, blasted out real fast. He walks onto a big, big shot and goes down for 10 seconds."
Chisora's trainer Don Charles admitted he was still upset by Chisora's behaviour in Munich but said his charge was "misunderstood".
"I wouldn't use the word unhinged [to describe Chisora], but he's definitely eccentric," Charles, who recently speculated Chisora might have autism, told BBC Sport.
"I would even go as far as to say that the kid's a genius. It may not appear that way because of some of the things he does but he really is deeply a nice person.
"When we win this fight I believe he's going to win a lot of fans and the world will start to understand his crazy antics and what makes him do them."
Meanwhile, Chisora's manager Frank Warren said that, whatever the rights and wrongs of the fight taking place, the paying punters were in for a night of "serious sparks and fireworks ".
Warren told BBC Sport: "On paper it's a great fight. Dereck Chisora has proven after just 18 fights that he's a capable performer at world level.
"He fought Robert Helenius in Finland [last December], who is the European champion, and he won that fight, that was the worst decision I've seen in many, many years.
"He gave Vitali Klitschko the hardest fight he's had since Lennox Lewis and with a bit more experience he would have beaten him. He pushed Klitschko all the way and even won the last round.
"David Haye unified the cruiserweight division, he became world heavyweight champion. And he fought Wladimir Klitschko and complained about his toe.
"David Haye is a big puncher, but Dereck has got a great chin. Dereck can punch and David Haye has been on the floor, he's been wobbled, he's been stopped.
"But whatever happens, you can guarantee the winner's next fight will be against one of the Klitschkos."