'Amir Khan should stay cool to win world title from Danny Garcia'
By Paulie Malignaggi
World welterweight champion and BBC 5 live boxing pundit
Last updated on .From the section Boxing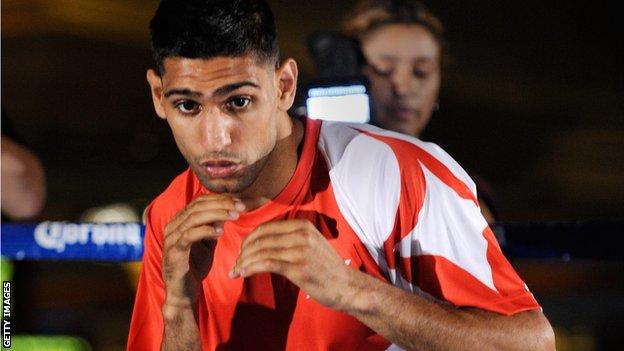 Amir Khan must be wary of being over-anxious to make a statement when he fights Danny Garcia for the American's WBC light-welterweight crown on 14 July.
Garcia's father has been getting into his head, calling him an overrated fighter, and it will be interesting to see how he reacts to that.
The intelligent thing to do would be to keep cool and box his fight because, if you box your fight when you are Khan, you are very difficult to beat.
I am sure his trainer Freddie Roach will remind him of that but sometimes, as a grown man, you have your pride.
Khan is a young man, at 25, but he's also a veteran. He's wise beyond his years in the ring because he's been in with such good fighters.
But if he does come out a little too eager, the risk is there, that he may run into something.
Garcia has got a lot of heart and will be in the ring for a long time, it's just a question of whether Khan has the skill to stop him.
Khan is the more talented fighter. He's faster, punches shorter, has a more varied arsenal and is a clever, sneak body-puncher.
Garcia may be a decent puncher but he throws wide punches and he's not very adept at cutting the distance, which will be even more difficult against a fighter like Khan who knows how to use his jab well.
It's not a fight that will end early because Garcia likes to grind out his fights, especially after seeing what Peterson did last year. He has to come up with a gameplan.
He will try to set the tone with some physical play, some rough-house tactics maybe, and will try to land a big shot.
As a proud Philadelphia-bred fighter, Garcia is a hungry, young world champion and he's not going to want to lose. But this is definitely the best opponent he has faced.
I see a unanimous decision for Khan and he may force a stoppage if he starts beating Garcia down badly.
I don't question Garcia's character at all, but I just think that Khan is a level or two above him in the skills department.