Amir Khan v Danny Garcia: Defeat ends Briton's Mayweather hopes
By Paulie Malignaggi
Former IBF light-welterweight champion
Last updated on .From the section Boxing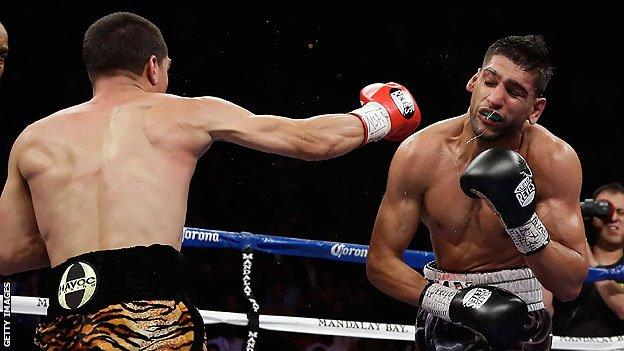 I'm still trying to get over the huge punch that ended the fight and saw Danny Garcia beat Amir Khan in round four.
Amir's gameplan was the correct one, pick off Garcia with speed, keep him off balance, keep him turning, but he made one fatal mistake.
That error was to jump in once too often - it is a mistake that, when made, he rarely pays for because of his speed, and in the early stages Garcia was made to look silly by it.
It's amazing how styles make fights, though, because Garcia prepared for that kind of thing, rode it out and Khan's one mistake cost him. In the end Garcia caught him the way he wanted to. The plan was to land that kind of punch and, when it came, he hit him hard.
Sometimes you try to think what you could have done differently but I don't know what Amir should have done different to what he did.
OK, maybe he shouldn't have jumped in so much. That was the mistake but it's hard to point fingers because his style has worked so well for him over the years and he's been doing it his whole career.
In the past he used to jump in all the time but now Amir picks his spots. He was jumping in, using his jabs. That's what he does, but Danny timed his counter perfectly.
You have to give credit to Garcia for being able to punch with Amir because that is a difficult thing. To be able to time that kind of shot and to have the wherewithal to land it after being pummelled in the early stages shows will.
He's got character and he will not show any frustration, even when things are going against him. Danny stayed with his gameplan and he believed in what he was doing. And when that hook landed, that was a shot.
The next few days will be tough for Amir. The media is so fickle. One day you're on top, the next you're not and you're being trashed. Two years ago I was written off and now I'm a world champion. Amir will be written off and people will say he can't hack it. There will be a lot of people with all the answers.
But Amir's going to have to have the mental strength to deal with this and to believe he can come back from it, because most people aren't going to believe he can do it.
One thing I am sure of is that Amir can forget about Floyd Mayweather.
Mayweather will probably be retired in a couple of years when Amir might be ready to take him on, so this loss means he has lost that fight. That won't come back, it's gone completely. Who's his next opponent? Maybe Paulie Malignaggi.
Whatever happens next with Amir, if I was handling him I'd bring him back slowly. There's no rush for a world-title fight. He should have a couple of outings in Britain and then take it from there.