Amir Khan not finished, says Golden Boy's Richard Schaefer
Last updated on .From the section Boxing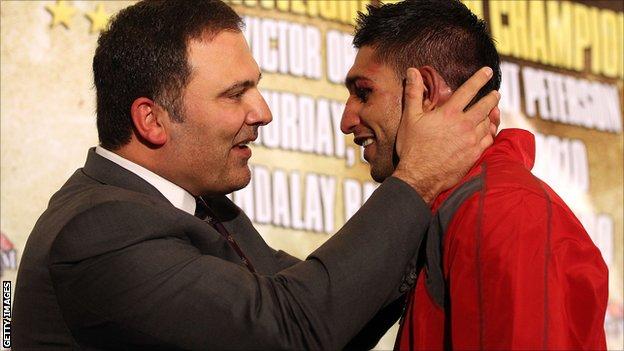 Amir Khan's promoter Richard Schaefer says the 25-year-old's career is not over despite a second successive loss.
"In the United States, fight fans and sports fans like to see fighters like that [Khan]," Schaefer, from Golden Boy promotions, told BBC Sport.
"They will certainly come back for another Amir Khan fight because he equals excitement."
British super-middleweight world champion Carl Froch called on Khan to retire after the loss saying the Bolton fighter's career was now a "write off".
Khan was knocked down three times as Garcia claimed the British fighter's WBA light-welterweight belt and held on to his WBC title.
The defeat in Las Vegas raised questions about Khan's ability to take a punch with some drawing simlarities to his first-round knockout by Breidis Prescott in 2008.
But Schaefer - who is the chief executive officer at Golden Boy - says he will not be abandoned by the United States audience or his American promoters.
"He's 25 years young and has great fights ahead of him," he said.
"HBO (US broadcasters) were talking to me and they would love to have him back, no question about it - and not on an undercard, but as a main event.
"That shows you the sport is changing, excitement is being rewarded. Networks don't want to see boring guys winning, they would rather put on an exciting guy losing."
Before the fight, Khan had talked about stepping up to welterweight for a showdown with unbeaten American Floyd Mayweather but, while that now looks unlikely, Schaefer has refused to rule out a meeting in the future.
"He left himself open and that one punch changed the fight but I can tell you that one punch did not change and will not change Amir Khan's career," he said.
"It's one of those situations where you have to take a couple of steps back and then one forward.
"Right now it would obviously not make sense to talk about the Mayweather fight, but can I still see a potential Mayweather fight? Absolutely.
"I think it would be a very interesting and exciting match-up so I really don't think those dreams are shattered, I think those dreams are postponed. Let Amir Khan come back with a couple of wins."