Trainer Enzo Calzaghe has coaching licence reinstated
By Peter Shuttleworth
BBC Sport Wales
Last updated on .From the section Boxing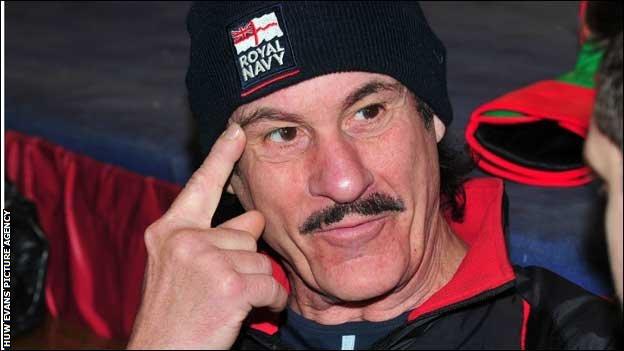 The British Boxing Board of Control has confirmed that world champion boxing coach Enzo Calzaghe has had his training licence reinstated.
The 61-year-old, one-time coach of former super-middleweight Joe Calzaghe, required a new licence when his old one lapsed following son Joe's retirement.
But Calzaghe was not permitted to renew his licence until he undertook the mandatory BBBoC first aid course.
The trainer of 30 years completed a course in Cardiff on 7 June.
Calzaghe already had a St John Ambulance first aid course certificate, which was once a valid BBBoC approved first aid qualification, but the board insisted that he did their "three to four hour" course.
Calzaghe, who has been in the corner for 33 world title fights for Calzaghe, Enzo Maccarinelli and former WBA light-welterweight champion Gavin Rees, took a break from boxing when Calzaghe Jr retired in 2009.
But he returned to boxing and started to coach former WBO world cruiserweight champion Maccarinelli until Calzaghe's boxing licence was denied in March and he was prevented from being in the Welsh fighter's corner when he won the British cruiserweight title from Shane McPhilbin.
Maccarinelli, who was assisted by his brother Valentino and respected boxing corner-man Dean Powell against McPhilbin, and Calzaghe have now officially split.
Calzaghe helped his unbeaten son Joe rule the super-middleweight division for 10 years before the Welshman stepped up to become the world's top light-heavyweight by beating Bernard Hopkins and Roy Jones Jr in the United States.
The renowned coach completed a Calzaghe double when he won the 2008 BBC Sports Personality Coach of the Year crown and Joe got the main award after defeating the legendary Americans.