Julie Kitchen inspired by Miriam Nakamoto online jibes
Last updated on .From the section Boxing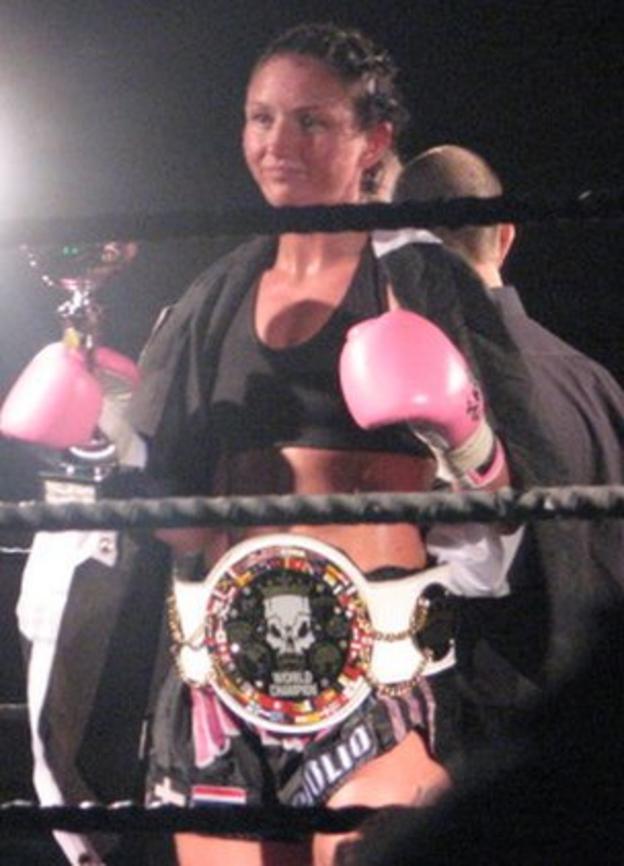 Cornwall's Julie Kitchen says online goading from American rival Miriam Nakamoto will spur her on to win their Muay Thai kickboxing world title fight on 18 August.
"This is the first girl in 58 fights who I've fought who's not been respectful in any kind of way.
"When I go into this fight I'm going in with a different mindset and I've been training with a different mindset."
She added: "It'll be a feisty fight and it's been billed as the biggest female stand-up fight that's ever happened, so it's the fight that everyone wants to see."
Kitchen says her 12-week preparations at Penzance's Touchgloves gym have been have gone well as she prepares to fly out to California next week ahead of the bout in Pala next month.
"I'm relatively confident, I've trained longer for this fight.
"I've trained really hard, I'm fit and I've been taking big shots off the guys in sparring."
And she is confident that Nakamoto will not become the first fighter ever to knock her out.
"I've never ever been wobbled in the ring and deep down I don't think this is the girl to do it, but in the fight game anything can happen any time.
"If she knocks me out I'd be absolutely devastated, but I've not been thinking that she will.
"If I knocked her out it'd be a dream come true, I'd be on top of the world," she added.