David Haye wants British licence for Vitali Klitschko bout
Last updated on .From the section Boxing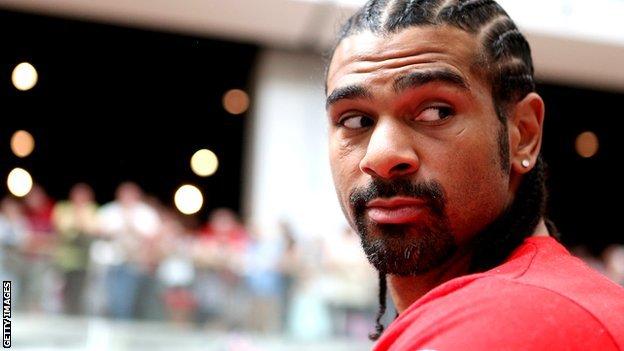 David Haye is keen to regain a British boxing licence as he continues to pursue a fight with WBC heavyweight champion Vitali Klitschko.
Chisora lost his licence after brawling with Haye in February, while Haye was officially retired at the time.
"My aim is to get Vitali in a ring next year," said the 31-year-old Briton.
"The only way we [Haye and Chisora] were able to deliver the fight the public wanted, when they wanted it, was to both apply for foreign licences.
"I'm a British boxer, I have never had any issues with the board and, should a fight with Vitali Klitschko happen, I'd be keen to have the British Boxing Board of Control (BBBofC) in my corner, simply because they are so experienced and are the best at what they do."
Robert Smith, general secretary of the BBBofC, told BBC Sport that he was yet to receive a licence application from Haye.
He said: "Once we get an application we'll deal with it. If we do, we'll go through the necessary steps and consider it. Until that stage there's not a great deal more to say."
Klitschko, whose younger brother Wladimir beat Haye in 2011, defeated Manuel Charr earlier this month.
However, the 40-year-old is standing for election to the Ukrainian parliament in October, which could scupper Haye's plans for a fight.
"If I was Vitali Klitschko, I wouldn't want to go out on a win like that," said Haye, who knocked Chisora out in five rounds, of Klitschko's fourth-round stoppage of Charr.
"This is the only fight that interests me at heavyweight and the WBC world heavyweight title is the one belt I'm desperate to win before I retire for good."
The WBC has already held talks with Haye, after which its chairman Jose Sulamain said the former WBA title holder was "welcome to return".
The WBC had threatened Haye with expulsion after he brawled with Chisora following the latter's bout with Vitali Klitschko in Munich.
Haye has repeatedly sought a fight against Vitali and said in November that talks between the two parties were under way.
However, Vitali opted for a title defence against Haye's fellow Briton Chisora, defeating him by a unanimous decision.
Because Haye did not hold a British licence at the time of his brawl with Chisora, it meant the BBBofC was unable to take any action against him.
Meanwhile, Luxembourg Boxing Federation (LBF) president Pierre Back said he was unaware of Haye's decision to hand back his LBF licence.
"I hope he will respect the one-year contract to hold a Luxembourg boxing licence because that was the deal with him," Back told BBC Sport.