Welterweight Lee Purdy aims to step up in class after title win
Last updated on .From the section Boxing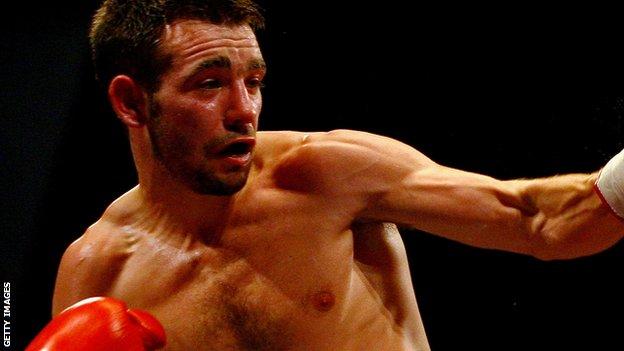 Colchester's Lee Purdy is looking for bigger fights and bigger pay-days after capturing the IBF international welterweight title.
"It's put me right up there now and who knows who could be looking to fight me now," he told BBC Essex.
"It's a big title - he had a really high ranking with the IBF."
Purdy, who is also the reigning English champion and a former British title holder, had his Argentine opponent on the floor three times during the contest and now has a record of 19 wins from 23 fights, with one draw.
"I'm just grateful I got the opportunity. I know it came late but I was in good shape, so that's why I took the fight and it can take me to another level," he said.
A re-match against Denton Vassell, one of three men to beat him, was on the cards for Purdy before the Carrasco fight but he believes his promoter now has "bigger fish to fry" and will look elsewhere.
He continued: "I've got my head in the right place and I believe I can go on to big things."
Purdy attributes his three defeats to his relative inexperience, having turned professional without a significant amateur background.
"I believe I'm getting better faster than an ordinary 25-year-old.
"I had six amateur fights when I was 11 years old and had a big break from the game from when I was 12 to 17.
"I got back into it. It wasn't very serious at first but I turned pro at 18 and I've never really looked back - I've done all my learning in the pro game," he added.