Amir Khan splits from boxing trainer Freddie Roach
Last updated on .From the section Boxing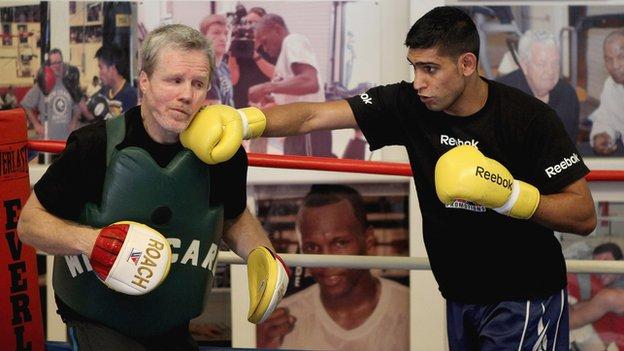 Amir Khan has confirmed he has parted company with trainer Freddie Roach and will name his replacement on Saturday.
Khan has lost his last two fights and rumours he would split with Roach - who also guides Manny Pacquiao - emerged after July's defeat by Danny Garcia.
"Officially I have left Freddie Roach," the 25-year-old tweeted. "Just had a good professional chat and maybe in the future we will work together."
Roach told ESPN: "I wished him luck. I have been fired before."
The Bolton boxer subsequently confirmed his separation from Roach in a statement on his official website, saying he felt a "fresh change" was needed.
"After nearly four years together, in which we enjoyed some great success, I part ways with my trainer Freddie Roach," he continued.
"I would like to thank him for all his hard work and help during this period and express my gratitude to him for the progress he helped bring about whilst I was under him.
"I feel now, however, is the right time in my career to make a fresh change and bring in a new trainer. I'm looking forward, and am excited, about the prospect of working alongside someone new. I will make an announcement in due course of who this will be.
"There are some specific aspects of my game I'm looking to work on and hopefully improve. My next training camp begins in early October and I will have everything in place by then."
Tensions appeared between the pair following the Garcia defeat with Khan issuing an ultimatum stating that Roach had to concentrate his efforts on the Bolton fighter, rather than his large stable of other boxers.
Roach then revealed on Friday he had twice rejected overtures from Khan's camp to ditch WBC middleweight champion Julio Cesar Chavez Jr and multiple world champion Pacquiao to concentrate solely on the British fighter.
The pair first began working with each other in 2008 following the Olympic silver medallist's first-round knockout loss during his WBO intercontinental lightweight title defence against Breidis Prescott.
They went on to win eight fights and two world titles together in the 140lb division before the recent losing streak.
Khan had been trained by Oliver Harrison for the first 17 fights of his professional career, with the duo enjoying a flawless winning record that included 13 knockouts.
Dean Powell and Jorge Rubio then lasted one fight each, before Khan linked up with Hall of Fame inductee Roach.