Ricky Hatton should not come out of retirement - Carl Froch
Last updated on .From the section Boxing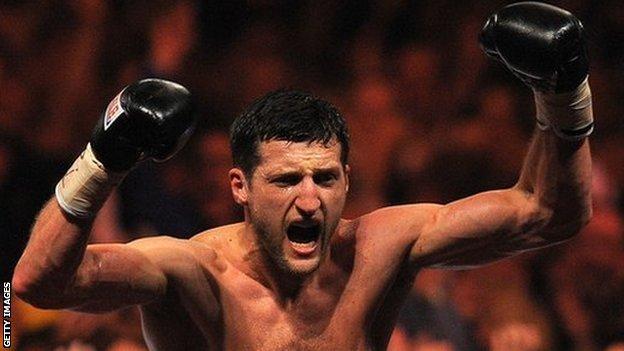 Carl Froch believes Ricky Hatton has made the wrong decision to come out of retirement and re-start his boxing career with a fight in November.
IBF super-middleweight champion Froch says Hatton has not "let anybody down" and should enjoy his retirement.
"I think he should stay retired but who am I to tell him that?" Froch said on BBC Radio 5 live's Sportsweek.
"He's two years younger than me and only he will know if he can get himself into shape to compete at the top level again."
Hatton was well beaten by Manny Pacquiao in May 2009 in his last fight, a contest for which he has since raised doubts about his preparation.
That bout brought a brutal end to a career in which Hatton was only beaten twice in 47 contests - by Pacquiao and Floyd Mayweather - and won world titles at light-welterweight and welterweight.
Froch feels such a career represents a good legacy for Hatton and has established his name in the sport's history.
"He's been fantastic for the sport of boxing and he's achieved lots of things," he continued. "His name is on the boxing map for years to come.
"Should he come back? Is it the right decision? We'll only find that out over the next year, 18 months, however long he's back for, and that will be based on how he performs.
"He got knocked out quite badly by Manny Pacquiao and nobody wants to go out like that but is that the writing on the wall? Is that telling you it's the right decision (to retire)?
"If he wants to box, he should box. Nobody can tell him what to do."
After retiring, Hatton was stripped of his license after admitting using cocaine and entered a period of rehabilitation.
The fighter has also had issues with weight control between fights, something on which Froch feels he will need to focus strongly in the next two months.
"Your brain will initially tell you that you shouldn't do it but if the mind is willing the body can sometimes be abled," he said.
"He doesn't live the life between fights. I'm a friend of Ricky Hatton's, I think he's great but if I was in his position I wouldn't fight."