Ricky Hatton 'past his best but right to return'

Last updated on .From the section Boxing25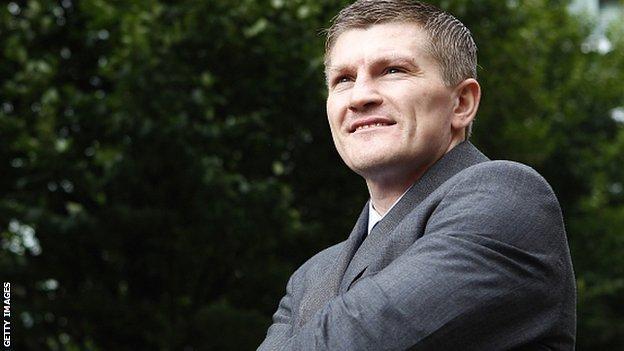 Ricky Hatton's former cornerman and conditioning coach Kerry Kayes says his old boss cannot hope to be the fighter he was before retirement - but is glad he is returning to the ring.
"Ricky's not the man he used to be," said Kayes.
"But people are saying it's dangerous, when this is the healthiest thing he's been doing in the last four years."
Hatton, who turns 34 next month, hung up his gloves after a devastating defeat by Manny Pacquiao in May 2009, before falling into cycle of substance abuse and depression.
Announcing his comeback last week, the Manchester fighter said he was "fighting to redeem himself" after his life had "turned to mush".
Kayes, who also used to be Hatton's nutritionist, joined the the former world champion's camp in 2002 and was in his corner for some of his biggest fights, including the night he won the IBF light-welterweight title from Kostya Tszyu and his Las Vegas defeat by Floyd Mayweather.
And he believes Hatton, who parted company with Kayes and head trainer Billy Graham after his win over Juan Lazcano in 2008, desperately needs a focus in his life.
"If a footballer is worth £10-15m at the age of 25, why do they give him away free at the age of 35 when he's got 10 years more experience?" Kayes told BBC Sport.
"[They let a player go] because he gets niggly injuries, his timing and reflexes and stamina might not be what they were. So don't expect a 25-year-old Ricky Hatton.
"He's analysed himself and decided he needs a goal, and he's got a lot of ring-craft and knows what he's doing."
In 2004, Kayes helped Hatton, who would often turn up to training camps as much as four stone overweight, lose more than 10 stone for three different fights.
"He was undisciplined between fights but the day he started camp he was like a Buddhist monk," said Kayes, who has also worked with British heavyweight champion David Price and darts legend Phil Taylor.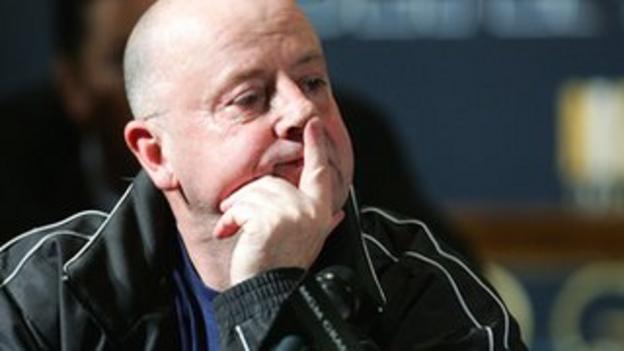 "He's thinking long-term. He's looked at himself and thought, 'I cannot carry on like this, I'm never going back there again, that terrible state I got myself in'."
Kayes said Hatton's split from long-term trainer Graham and his subsequent fall from grace had a negative impact on all those in the fighter's inner circle.
"It was horrific. Ricky's the main man, but there were an awful lot of other people that Ricky Hatton inadvertently made depressed," said Kayes.
"Billy Graham, myself, his dad Ray, his mum Carol. At one stage I thought we were going to have a mass suicide. It affected a lot of us, it was so sad the way it ended up.
"But what a privilege while it lasted. The year of the Floyd Mayweather fight, 2007, we were in Las Vegas for three separate fights. We lived it, it became part of us.
"You couldn't have bought the ticket for where we were. I was flying around America in a Learjet with Oscar de la Hoya - I'm from a council estate in Gorton, how did I get here?"