Ricky Burns stops Kevin Mitchell to retain world lightweight title

By Keir Murray
BBC Sport Scotland at the SECC, Glasgow
Last updated on .From the section Boxing24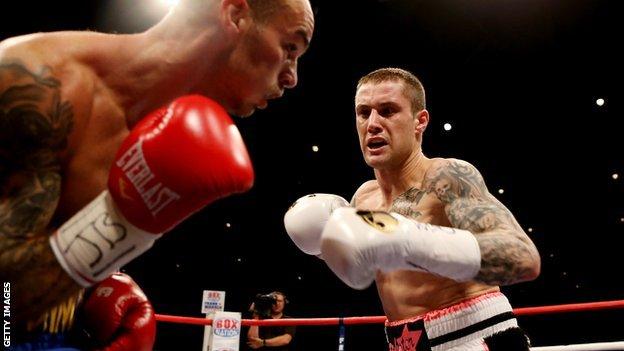 A sensational performance by Ricky Burns in Glasgow ended Kevin Mitchell's hopes of taking his WBO world lightweight title.
The 29-year-old Scot had his Essex opponent down twice in the fourth round before the referee stepped in.
The three previous rounds were stunning in their intensity and ferocity.
Mitchell caught Burns on occasion with his quick punching but the taller, broader champion looked in control after an evenly matched first round.
The bout had been hyped to the heavens and the first round did not disappoint, with both boxers charged by the electric atmosphere created by 10,000 fans and stoked by legendary MC Michael Buffer.
Burns clubbed Mitchell, 27, with a right but took a heavy hit in return, just one of several painful opening exchanges.
Mitchell, with the cross of St George emblazoned on his shorts, was on the receiving end of a thunderous right hook from the Scot in the second round, as Burns began to edge ahead.
The ferocity of the punches left one wondering how the pair could be such good friends away from the ring.
An outstanding little warrior, Mitchell thumped his chest in defiance after being pinned against the ropes and beaten about the head in the third.
And with his flashing fists there was every chance he could land a succession of blows to upset the home crowd.
This he did briefly in the fourth but that was between moments of belligerence by the reigning champion.
A thumping left by Burns, from Coatbridge in North Lanarkshire, put Mitchell down and after the ref's count of eight he never truly looked like lasting until the bell.
Burns moved in to finish the contest after his opponent went down for a second time and Terry O'Connor did the right thing in ending the contest before the brave man from Dagenham took any more punishment.
After the fight, Burns said: "The whole build-up went perfectly. I've been feeling so much stronger. My confidence is there too, but I felt so much stronger.
"I said I'll try and suss him out in the first round. When I had him on the ropes I wanted to rough him up and it worked.
"On Monday I'll be on the phone to Frank Warren. Hopefully we can push for a unification fight, it would be a dream come true."
Mitchell was keen to praise his rival: "He done the job on me tonight. He's very fit and very strong."
Promoter Frank Warren said of Burns: "This guy is going to unify titles. He'll fight again this year.
"There aren't many guys in the world at his weight. He should be proud of what he's done for Scotland."
On the undercard, Scott Harrison continued his comeback with a 60-53 points win over Nottingham's Joe Elfidh, a late stand-in.
Elfidh recovered well from a first-round knock-down and wobbled the 35-year-old Scot with a right in the final round.
Former British and Commonwealth featherweight champion John Simpson retained his Celtic super-featherweight title with a second-round stoppage of Merthyr's Dai Davies.
Edinburgh's John Thain took his record to eight consecutive wins by outpointing Lee Noble from Barnsley 60-55 in their light-middleweight bout.
Another boxer from Scotland's capital, cruiserweight Stephen Simmons, won all six rounds against Bulgarian Tayar Mehmed.
And Stockton-on-Tees' Bradley Saunders proved too strong for the Slovakian Ivan Godor in a six-round lightweight contest.
The referee stopped the fight after two knock-downs in the third. Godor's subsequent balancing on one leg to display his readiness to continue cut no ice with the official.