Olympic medallist Tony Jeffries quits boxing due to hand injuries
Last updated on .From the section Boxing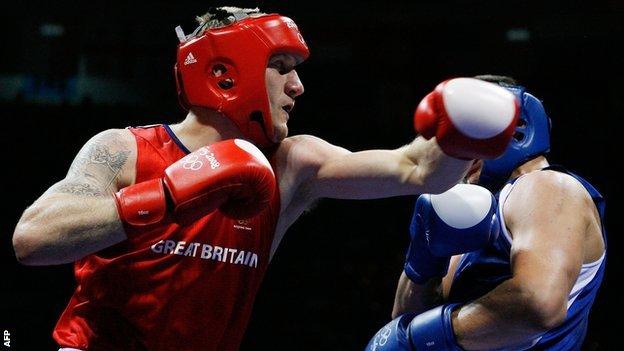 Britain's 2008 Olympic bronze medallist Tony Jeffries has retired from professional boxing due to injuries to both hands.
The 27-year-old from Sunderland turned professional shortly after the Beijing Games and finishes with an undefeated record of nine wins and a draw.
"Today my boxing career is officially over," the seven-time national champion said on his Facebook page.
"After injuries to both hands, I've had to accept I will not fight again."
His light-heavyweight bronze in China four years ago was the first medal of any colour for a Sunderland Olympian.
He made his professional debut in February 2009, beating Belarusian Aliaksandr Vaiavoda by knockout, the first of six career victories by stoppage.
But a continued battle with injuries, including a hole in a knuckle and a tear in his left hand, proved too difficult to overcome when he attempted to return to training this year.
"I tried last week for the first time in 10 months, but before I even did it I knew it was going to hurt because just making a fist still hurts. I was right," he said.
"It seems I've been lying to myself for so long, hoping it would get right. I suppose I just didn't want to come to the reality of not being able to fight again.
"Now I'm absolutely gutted to say I have no other option."