Alex Arthur tips Ricky Burns over Scott Harrison

By Keir Murray
BBC Sport Scotland
Last updated on .From the section Boxing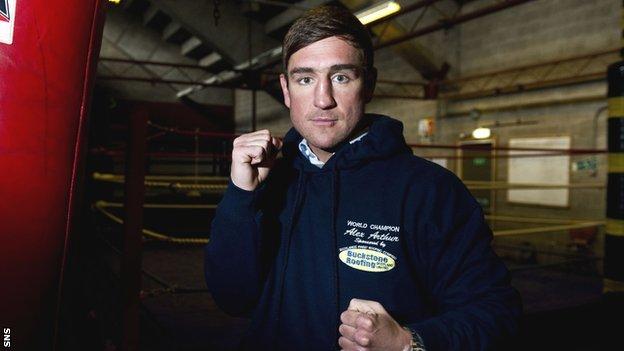 Former WBO super-featherweight champion Alex Arthur has tipped Ricky Burns to edge a fight against Scott Harrison - should the pair meet in a title bout.
"I know both lads well. I have boxed them on numerous occasions," Arthur told BBC Radio Scotland's Sport Nation.
"But any boxing purist would lean more towards Ricky Burns."
Harrison's return to the ring after a period of personal problems, including a spell in prison in Spain, may yet be scuppered by his appearance in a Spanish court in the past week on assault charges.
But if he is free to concentrate on his profession, a challenge for Burns's title could emerge, although Harrison has been warned he needs to prove himself before he is given a shot at the WBO belt.
The champion's promoter, Frank Warren, told reporters in the aftermath of his demolition of Mitchell at Glasgow's SECC that Harrison would need some more fights - and soon - to regain sharpness before he could realistically face Burns.
"A peak Scott Harrison, who is perfectly trained and has made the weight easily, can beat anyone in the world," Arthur, 34, told Sport Nation host John Beattie.
"But so can Ricky Burns.
"At this time you'd have to lean more towards Ricky Burns because of his age, his fitness level and how much he has been competing recently compared to Scott [two fights in almost seven years]."
Harrison's performance against Elfidh, a late stand-in, was steady if unspectacular.
A warrior in the ring, Harrison controlled the bout against the Englishman, but as things stand one would be surprised to see him cope with the speed and ferocity of a confident Burns.
But Arthur, now fighting at light-welterweight, knows Scottish fight fans would turn out in huge numbers to see the two compete.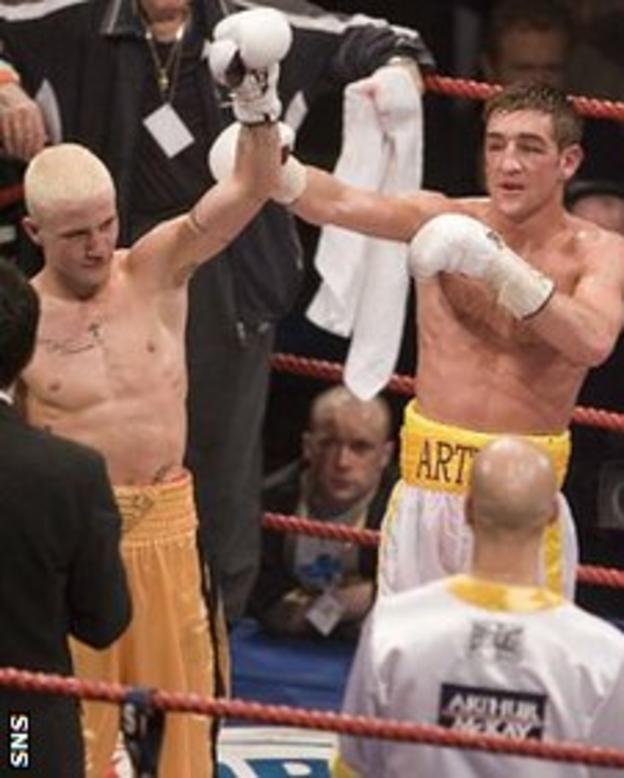 "In terms of ticket sales and creating hype it would be a massive fight for Scotland," said the Edinburgh boxer, who is one of only two men to have beaten Burns - a British, European and Commonwealth title bout back in 2006.
"It would be huge, two Scotsmen fighting for a world title.
"They would have to put it in a big stadium, that's for sure.
"You would get the whole of Glasgow going, some from Edinburgh and there wouldn't be a person left in Coatbridge [Burns's home town]."
Arthur, with a record of 31 wins and three defeats in 34 fights across a 12-year career, acknowledges that the curtain is closing on his own time as a professional.
However, he is keen to land a couple of prize bouts before he calls it a day.
"It's just proving really difficult to get the right fight," said Arthur, who has fought only twice in almost two years.
"Boxing seems to be tied up just now with certain names and certain promoters who favour certain fighters so it is hard to get in the ring with them or do deals with the promoters to get the big fights in the UK.
"If it meant me moving away to America, Canada or Germany to get a fight I definitely would do it.
"I made a promise to my family and myself that I wouldn't fight past my 35th birthday, and that is in late June next year, so I would like to be in a few big fights before that."
Getting in the ring with Burns, though, is out the question.
"I am a little too heavy for Ricky now," he said.
"My weight has gone up slightly while Ricky has maintained a lighter weight."