Anthony Ogogo torn over whether to turn professional
Last updated on .From the section Boxing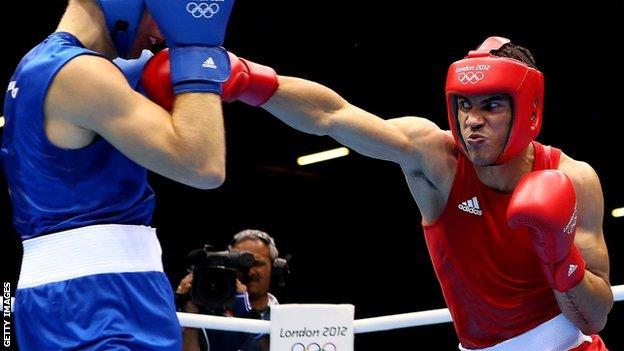 British Olympic bronze medallist Anthony Ogogo says he may have to deny his "massive desire" to go to Rio 2016 in favour of turning professional.
The 23-year-old from Lowestoft is considering offers from promoters.
"It's a lovely position to be in. I just need to take my time and make the right decision for my future, myself and family," he told BBC Radio Suffolk.
"People don't realise there's no money in amateur boxing at all. You do it for the glory and the prestige."
Ogogo produced one of many memorable moments for Great Britain at London 2012, beating Ukraine's world number one and world champion Ievgen Khytrov on his way to a middleweight bronze medal.
That performance, after nine months of shoulder rehabilatation, has attracted attention from promoters from around the world.
And, while the lure of big-money payouts for professional fights is a strong one for the Suffolk fighter, he has refused to rule out the possibility of competing at next year's world championships and even in Rio in four years' time.
"There's a massive desire there. I'll go to the world championships with a bye now because of my Olympic medal," he explained.
"It will be nice to build on the success, go to the worlds and medal and then go to Rio as one of the favourites.
"I have a burning desire to do that. But on the other hand I've got the option of turning professional.
"I'm 23 now. So the next four years of my life I'm going to develop - get a house, kids - and it's hard to do that on the shoestring budget I live on.
"It's a tough one. Do I stay amateur and go for Rio? My build-up to London wasn't easy. If there was a guarantee of going to Rio I may stay amateur. But the qualifying is tough.
"It's a nice position to be in. I've got some big promoters from around the world who would like to sign me.
"And amateur boxing want to keep me as well because they want to build on my success."
Anthony Ogogo was talking to BBC Radio Suffolk's Graeme McLoughlin.