David Price has 'massive amount to lose' against Audley Harrison

Last updated on .From the section Boxing
Boxing is about as sentimental as the undertaking business: measure them up, dig the hole, lower the loser in. Count your money, smile all the way to the bank and move on to the next poor victim.
Occasionally a boxer will have to bury a hero and the sadness will be genuine. But sentimentality in boxing can be as debilitating as a Joe Frazier left hook.
"It's unfortunate he's become a bit of a joke character who's gone from hero to zero," says David Price of Audley Harrison, against whom he defends his British heavyweight crown in his home town of Liverpool on Saturday.
"It's a shame. But I can't afford to let that get in the way of business. Fact is, because of the way the public perceive him, I've got a massive amount to lose in this fight. If I was to lose to him, how would that make me look?"
It is half an hour after Price's arrival at his beloved Salisbury Amateur Boxing Club and the heavy bags have stopped sighing, the ropes have stopped whirring and the hall has emptied: this is Price's time, the undisputed king of his gym.
But the genial, scrupulously polite Price is as grounded as Harrison is pie in the sky. Both were Olympians, both were medallists, but all men are shaped as much by their journeys as by where they came from.
Since striking gold in Sydney in 2000, it has been a case of boom, bust and denial for Harrison, under the glare of a scornful British public. Price, who won bronze in Beijing in 2008, has grafted in the shadows, attempting to pull off a Harrison in reverse: turning public scepticism into belief and acceptance.
"I was a junior in the England set-up when he won his gold and I was inspired by it, I was his natural successor," says 29-year-old Price. "It was something to be proud of; he was an inspiration to everyone."
Harrison landed a television deal with the BBC, making him an instant millionaire, and sages rehashed that old Marvin Hagler quote, about how hard it is to go running at 5am when you are sleeping in silk pyjamas. Olympic gold has never been a guarantee of success in the paid ranks but the argument that Harrison was set up to fail was a persuasive one.
Take away the hype and the bravado and Harrison's record, on paper at least, reveals him to be a perfectly decent domestic heavyweight, a man who mixed it with the best Britain had to offer in the 2000s with varying results.
But for most of his career Harrison projected the image of a self-made man who worshipped his creator. Which can work when you are winning, but not when you are getting knocked out in three rounds without throwing a punch, as happened in his last fight but one, against David Haye in 2010.
Price adds: "I got stopped in my last amateur fight, the semi-finals of the Olympics [by Italy's Roberto Cammarelle, who lost to Britain's Anthony Joshua in the 2012 super-heavyweight final in London]. That put a couple of promoters off and I didn't get the big-money deals thrown at me.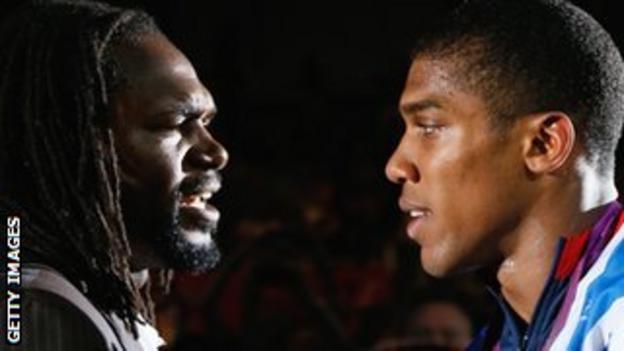 "A couple of times television networks have pulled the plug [first Setanta went under in the UK in 2009 before Sky severed links with his promoter Frank Maloney earlier this year] and that's left me in no man's land. And when I first turned pro I was fighting with a broken hand I didn't know was broken."
Price sighs deeply when I ask him how close he came to chucking it all in. "Put it this way, I was considering what type of job I'd have to go back to, a matter of months after turning professional. It was depressing."
Price had successful hand surgery in 2010 before signing with Maloney, who guided another famous Olympian, Lennox Lewis, to the world heavyweight crown. Now, with 11 knockouts in 13 fights, Price is smouldering.
"It was a baptism of fire but it's helped me become mentally strong and it's going to be the making of me," says Price. "I've learned my craft and now people are recognising I'm a serious talent. I've been performing consistently and exciting fans, knocking people out, which is the important thing."
A first-round KO of veteran gatekeeper John McDermott in January of this year should have led to a clash with then British champion Tyson Fury but politics intervened again, with Fury choosing to vacate rather than risk his unbeaten record. Price sucked up the frustration and vented it on Sam Sexton, dispatching the Norwich fighter inside four rounds to claim the Lonsdale Belt.
The man bandaging Price's hands while we talk is Franny Smith, who also trained Price as an amateur. Smith is largely unknown in professional circles but has a fine track record in the unpaid ranks, scoring much success at 'The Solly'.
Smith's face crops up in pictures all over the gym, dating back to his fighting days as a schoolboy, and is a fortifying link to the past, as much as the building where they go about their work, whose every creak and groan Price recognises and feeds off.
"I walked in here as an 18-year-old kid and from there my career took off completely," says Price. "I've got so many good memories from this gym, although I've had so many ups and downs, so many ding-dongs in that ring with old fellas who beat me up. It was the making of me, something I'm proud of."
After years of acting the role of a champion, Harrison has belatedly come to the conclusion that Price might have it right. So while Harrison usually sets up training camp in California's Big Bear Mountains, where Lewis and Oscar de la Hoya got tough, this time he has prepared where the heart is.
"My strength is in my family," says Los Angeles resident Harrison, who turns 41 at the end of this month. "If I went to camp it would be like a disconnection." A bit too far down the road for Damascene declarations: for too long Harrison thought he was right and everyone else was wrong.
"The potential of setting myself up financially, that keeps me hungry," says Price. "Two kids, a family, that's all the motivation you need. And I don't want the feeling of 'could have, should have' like I had at the Olympics. I use what happened at the Olympics to make sure the same doesn't happen to me again."
Anthony Joshua take note: on the face of it, a gold medal at the Olympics is better than a bronze one. But gold medals often come with colossal expectation, a sense of entitlement and the mistaken belief that nothing can go wrong.