Anthony Joshua: Olympic champion steers clear of promoters

Last updated on .From the section Boxing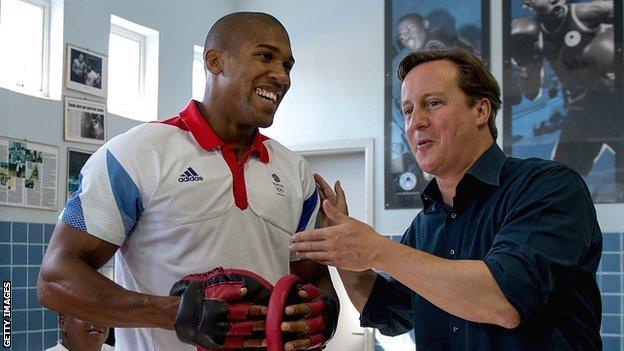 Olympic champion Anthony Joshua is happy to stay amateur, despite knowing he would earn "a life-changing amount of money" were he to turn professional.
Joshua became one of the hottest properties in boxing by winning super-heavyweight gold for Britain in London.
But the 22-year-old said he had not even discussed figures with any professional promoters.
"It's great promoters are interested but I haven't even been in a promoter's office," Joshua told BBC Sport.
"The Olympics was only part of my journey, it's not going to stop here. Before the money comes the respect.
"One day [I will turn pro], when I'm ready and I know I'm going to be able to defend myself properly.
"I don't want to take the money and jump into things, make the wrong decisions and for people lose respect for me. My ambition is to do well rather than get fame and money."
Earlier this week, Richard Schaefer, chief executive of top American promoters Golden Boy, said Joshua could "relight the fire in the heavyweight division".
But while Joshua said he respected Audley Harrison, who won super-heavyweight gold in Sydney in 2000, he conceded his fellow Briton's experiences have provided a salutary lesson.
On turning pro in 2001, Harrison bagged a £1m deal with the BBC but his career in the paid ranks has been largely disappointing.
Harrison's pro career is perhaps best remembered for his defeat by David Haye in 2010, when he threw one punch in three rounds, although he now faces Beijing bronze medallist David Price on Saturday.
"Just because I won a gold medal, it doesn't mean everything is going to fall in my lap," said Joshua, who agreed that Price, who is unbeaten in 13 pro fights, is doing things the right way.
"David is building his career under the radar, starting to build the exposure at the right time. All the best to him, it would be great to see a British heavyweight coming up."
Joshua has been back in the gym for a month following some charitable work alongside Prime Minister David Cameron in the favelas of Rio, although he does not fight competitively again until next year.
And he says the atmosphere at the English Institute of Sport in Sheffield is as vibrant as ever following Team GB's five-medal haul in London.
"We're going onto chapter two now and it's like starting from the beginning, but I hope to be fresh and improved next year," Joshua added.
"The Olympians have come back to the gym to work again, their egos haven't taken over and everyone has stepped up their game. Things are only going to get better."