Evander Holyfield hints at retirement while confirming auction

Last updated on .From the section Boxing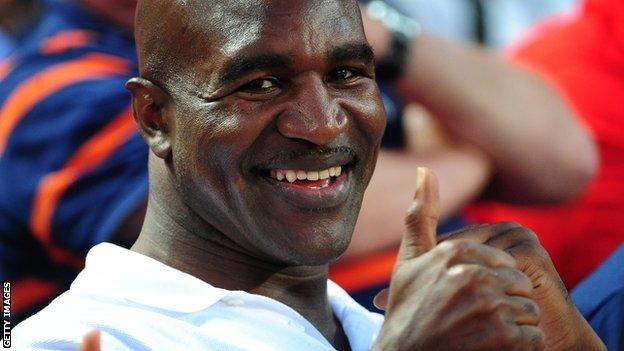 Four-time world heavyweight champion Evander Holyfield has hinted at retirement while confirming details of an auction of his prized possessions.
Holyfield, who turns 50 next week, said he would only fight for a world title while conceding it was "pretty much the end" of a 28-year professional career.
"Right now I'm winding it down, I can't get the fights I want," said Holyfield.
"I haven't made it official but the time is coming that I will. I don't have that much fight left in me."
Holyfield, who has allegedly lost his fortune and is reportedly £10m in debt, denies he has been forced into a fire sale of his boxing memorabilia.
But Holyfield, who was also the undisputed cruiserweight world champion in a stellar career, did admit that the money raised "wouldn't hurt".
"It's not sad at all, I wouldn't do it if it was sad," Holyfield, who also denied the bronze medal he won at he 1984 Olympics was among the items on sale, told BBC Sport.
"All that stuff just represents the things that I did. The more stuff gets out there the more people will realise what I accomplished in 41 years of boxing.
"People wouldn't get the opportunity to see it if it was in my home. I've still got more than enough stuff for my kids and my grandkids.
"I make money, I'm a money magnet. But the money wouldn't hurt. But I'm not concerned about what anybody else thinks, I try to do the right thing and that's it."
Holyfield, who fought Mike Tyson, Riddick Bowe and Britain's Lennox Lewis in the last golden era of heavyweight boxing, has not held a portion of the world title since 2001.
But the native of Atlanta, Georgia, believes boxing owes him one last title tilt for what he has done for the sport and is still dreaming of a fight with either Vitali or Wladimir Klitschko.
Vitali, 41, is the WBC title-holder and Wladimir, 36, holds the WBA, IBF and WBO belts.
"I'd like to think, because of all the things I attained, they'd give me a shot," said Holyfield.
"I'm in good enough shape and I'm a good enough fighter and I believe I could beat the Klitschko brothers, even at soon to be 50.
"But I'm not willing to pay the price of going through the ranking fights, to fight two or three other people, to get the championship fight.
"I can't put myself in a position to go and fight these guys that are 28 or 30. At least the Klitschkos are in their late 30s and early 40s. We're in the same boat.
"I gave the brothers a choice, I've done everything I could. If they don't have that respect for me, I understand that, I move on."
Holyfield last fought last May, when he stopped Denmark's Brian Nielsen, himself 46 at the time, in 10 rounds.