David Price likened to Lennox Lewis after beating Harrison
By Ben Dirs
BBC Sport at Liverpool Echo Arena
Last updated on .From the section Boxing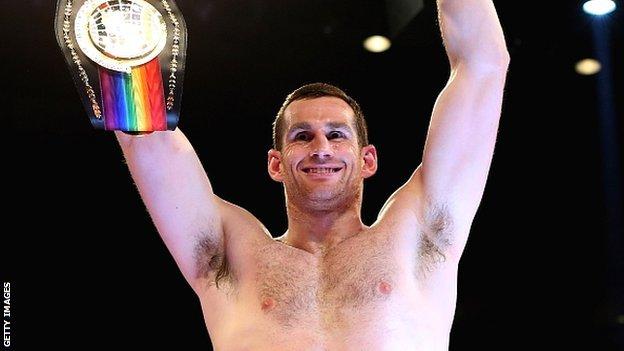 David Price's promoter Frank Maloney compared his charge to heavyweight great Lennox Lewis after his devastating
Price, 29, needed only 82 seconds to dispose of Harrison, and Maloney - who also handled Lewis's career - said he was excited by the resemblance.
"I am getting excited. That's why I postponed my retirement," said Maloney.
"It was 20 years ago that Lennox knocked Razor Ruddock out and that punch was better than the one Lennox threw."
Maloney, who guided Lewis to the undisputed heavyweight crown, added: "I've not been in a venue packed out like that since the Lennox days. The atmosphere was rocking.
"David is the future of British boxing."
There were 8,500 packed into the Liverpool Echo Arena to see their hero send Harrison into retirement, and Price said he shocked himself with the power of his punches and how quickly it was all over.
"I didn't expect to do that to Audley Harrison - I thought I'd break him down over time," said Price, who will next defend his British and Commonwealth titles against former champion Matt Skelton on 8 December.
"The facts are [Harrison] is a former Olympic and European champion and world title challenger and I've just done a number on him. I've developed a killer instinct in the last year or so. When I smell blood I'll get him out of there.
"Each win breeds more confidence and now I believe I can become the heavyweight champion of the world. But there's still massive room for improvement."
Price added that he sympathised with Harrison, whose career since turning professional has lurched from one disappointment to another, making him a figure of ridicule among the British public.
"I feel sorry for the man because no-one in boxing will give him the time of day," said Price, who is now unbeaten in 14 fights, with 12 knockouts.
"I'm just pleased he's all right because I've got a lot of respect for Audley, despite the bad name he's got."
Meanwhile, the 45-year-old Skelton vowed to give Price a tougher fight, while Maloney suggested he would be like nothing his charge had seen before.
"David looked phenomenal and he is a very well-schooled heavyweight," said Skelton, who has 28 wins from 34 fights, with 23 KOs.
"People constantly go on about my age and the fact I started boxing in my 30s, but I still love the fight game and you'll see a better performance than you saw tonight. I've not seen David under pressure yet and that's my game."
Maloney added: "Matt brings something David has not had to face before: he will come in like a bull and we hope David will learn something."