Audley Harrison ponders future after David Price defeat
Last updated on .From the section Boxing128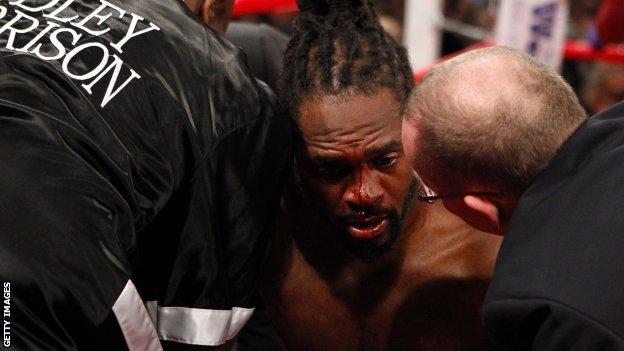 Britain's Audley Harrison is mulling over his future after being knocked out by David Price in the first round of their heavyweight contest on Saturday.
Harrison, 40, stated: "I have said when I turn up to win, and lose to nothing other than ability, I will know my time is up, so this could be my last bout.
"I'll take some time as I never want to come back once I've walked away."
Harrison, who spent several minutes on the canvas receiving treatment following the defeat, was booed from the ring at the Liverpool Echo Arena.
He was magnanimous enough in defeat to praise his opponent but feels his age is now against him.
"I want to congratulate David Price and his team on executing his game-plan so effectively," Harrison continued in a statement.
"I said I had prepared very well for this bout and it showed. I was in great shape and went out there with no fear, believing I could win it.
"I was really in the zone, didn't get fazed by the crowd, or atmosphere and stayed focused on the task. After eight years, I finally had control of myself again.
"My whole game plan was about avoiding his right, so to get lined up like that is a disappointment for me.
"Father time has caught up with me, as I didn't see the initial shot, so could not react. He finished me off like a good pro, so I have no complaints. I have a broken nose for my troubles.
"If it's to end here, what a ride it's been and I'm grateful to the universe for allowing me to find my destiny and walk the precarious road my way."