Audley Harrison: David Price defeat is final knockout blow

By Mike Costello
Presenter & Commentator
Last updated on .From the section Boxing77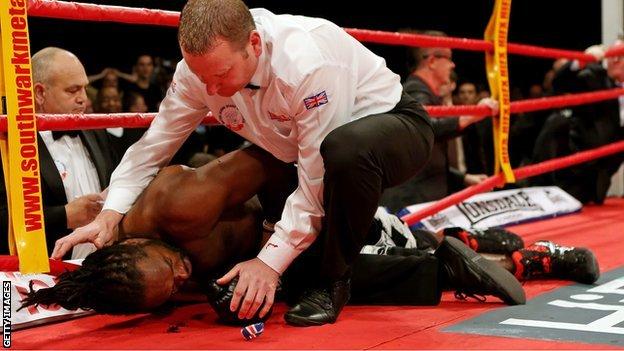 To paraphrase a ruder quote, it was once said of gobby Puerto Rican boxer Hector Camacho that if "talking trash was poetry, his last name would be Shakespeare".
Camacho did at least back up his boasts by becoming a world champion. Audley Harrison will be remembered as a man rich in talent but poverty-stricken in the mettle needed to flourish as a professional prize-fighter.
He had many a clever phrase but all too often got fazed on the big occasion. His shortcomings illustrate the difference between amateur and professional boxing and should be studied by Britain's boxers who were so successful at London 2012.
When Harrison discarded the amateur vest after winning Olympic super-heavyweight gold in 2000, there was a clamour among promoters and TV companies to persuade him to join the pro game.
Revisionist history suggests the BBC were mugged into sealing a multi-fight deal. Yet, at the time, it was described in the Daily Mail as a "major coup" for the Corporation. The fuss created by Anthony Joshua winning gold at London 2012 serves as a reminder of how Harrison was being feted post-Sydney.
Gripes about the lack of quality-control exercised by the BBC in the selection of Harrison's early opponents are valid. His determination to play the joint role of fighter and promoter clearly stunted his progress because they are separate, specialist roles. Basking in the afterglow of Olympic glory, he under-estimated how many unsentimental sharks would be waiting to scupper his moves.
But whatever path he had taken, nothing and no-one could have delivered what he required most: the courage to reach the top of what is often described as the hardest game.
While all boxers show bravery just by clambering through the ropes, they must be judged on a higher, harsher level once the bell rings. His reluctance to engage meant he became an example of the coaching tenet that talent is only as important as the moment it is produced.
As an amateur, competing over four rounds of two minutes' duration, Harrison always had the finish line in sight. In the pro ranks, the journey was longer, darker and lonelier.
One fight, for me, sums up his failings. It is possible that the Irishman Martin Rogan would not have laid a glove on him had they met as amateurs, as Harrison could have jabbed and danced his way to safety over the shorter distance.
But in December 2008 at London's Excel, Rogan hustled and harried and pestered him for 10 ugly rounds and edged it on points. He was simply too hard for Harrison.
Harrison did win the European title - and in stunning style - in 2010 with a last-round knockout of Michael Sprott. Such successes were heavily outweighed by disappointments.
He entered the professional ranks at an opportune time to be a heavyweight prospect. Lennox Lewis was soon to exit the stage and the Klitschko brothers had yet to dominate. During Harrison's career, the world heavyweight title has been held by the likes of Oleg Maskaev, Sergei Liakhovic, Sultan Ibragimov and Chris Byrd. That he didn't join them might trouble him for some time to come.
It is Harrison's misfortune - and miscalculation - that his contribution to British boxing is undervalued. At 17, he was sentenced to nearly three years in a young offenders' institution for a range of "street" crimes and on his release he found boxing and reshaped his life.
Heavyweight David Price - who beat him on Saturday - and super-middleweight world champion Carl Froch are just two boxers who speak of Harrison in glowing terms. Froch, in particular, has often told me how he regarded him as a mentor when they were together on amateur teams in the late-1990s.
Harrison's Olympic gold medal in Sydney was the first won by a British boxer in 32 years, a rare and special feat. The success led to improved funding for the amateur sport and helped lay the foundations for the success stories of the last two Olympic boxing campaigns.
It was saddening, then, to hear him being booed as he was treated by paramedics in the ring in Liverpool last Saturday night. Derision has become an all-too familiar soundtrack to his life and he invited some of it by making outlandish claims.
In the build-up to the shattering defeat against Price, Harrison revealed that he had been "living a lie" for 12 years. It seems many on the outside got to the truth long before he did.