Andrew Flintoff prepares for professional boxing debut
By Sam Sheringham
BBC Sport
Last updated on .From the section Boxing
In various guises, Andrew Flintoff has faced up to 90mph bouncers from Brett Lee, cycled from Athens to London in 26 days, and had a very close encounter with a lion in Botswana.
But the former England cricket all-rounder is currently embroiled in his biggest challenge to date - life as a professional boxer.
"It's the hardest thing I've ever done," says Flintoff, who will make his heavyweight bow in Manchester on 30 November against an unnamed opponent.
"Cricket was something I'd been doing since I was a kid and it came naturally, but doing this in a short space of time with little or no experience has been a challenge.
"There are two sessions a day, a lot of sparring work, a lot of gym work and a strict diet. It's been a challenge but one I'm enjoying."
It has been six weeks since the 2005 Ashes hero caused a few splutters over morning breakfast bowls by announcing his career change and the transformation in his physique is striking.
The man whose early England career was hampered by question-marks over his waistline is now a lean and angular presence, his jawline chiselled and his skin wrapped tightly around every bulging muscle.
"It's been a lifestyle change," says Flintoff, who is being coached by Shane McGuigan, son of the former world featherweight champion Barry.
"I'm having steak for breakfast and lots of chicken and fish, and I've lost 40 pounds just through hard work.
"It's been a bit of a wake-up call for my wife, seeing me coming home with battered lips, black eyes and a bleeding nose.
"I think that's when she realised how tough this is, but I couldn't do it without her support."
Flintoff, who played in 79 Tests and 141 one-day internationals for England, was forced to give up cricket because of injury problems in September 2010, a year after his final competitive game, and has since divided his time between television, radio and charity work.
He rubbed shoulders with some of the world's most dangerous animals in the "Freddie Flintoff Goes Wild" TV series and cycled across Europe with former England rugby captain Lawrence Dallaglio to raise money for Cancer Research UK and Great Ormond Street Hospital before the Olympics.
In between projects, however, there has been down time and the chance to stew over what he perceived to be unfinished business in the sporting arena.
"In an ideal world I'd still be playing cricket now but I played my last game at 31," said Flintoff. "Then this came along and I thought 'why not?'.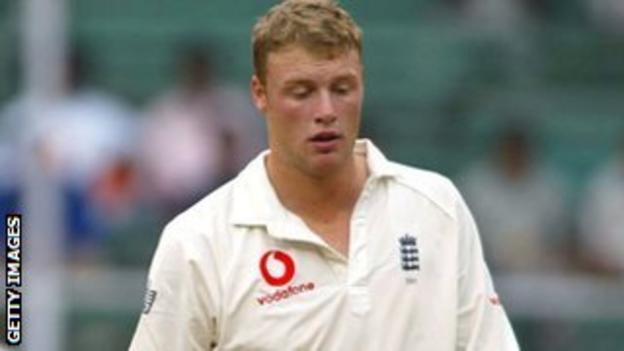 "I'm enjoying being a sportsman again. When you have the routine you want to break it and when you don't have the routine you want it back. You get up in the morning and you have a bit of purpose.
"There will be critics and cynics, but you get them whatever you do. I'm just going to get my head down and give myself the best chance."
Flintoff is expected to be issued with a 12-month licence by the British Boxing Board of Control next week following medical clearance.
Representatives of the board have been watching him in training, although secretary Robert Smith was keen to play down expectations.
"The reports from our area council representatives indicate that Mr Flintoff is fit, in shape, and has been well-schooled by Barry McGuigan and his son Shane," Smith told the Daily Telegraph.
"But I think it is fair to say we are not expecting Freddie Flintoff to be the next Sugar Ray Leonard."
Flintoff, whose progress is being filmed for a television documentary, is reluctant to speculate on whether his boxing career will extend beyond a single bout.
But one thing is for sure, after four months of self-sacrifice, his 35th birthday party six days after the fight will be quite an occasion.
"I'll try to keep up the diet, but I reckon the sixth of December is going to be a big day," he says. "I'm looking forward to my birthday this year."