Emanuel Steward: Lennox Lewis mourns 'historic' trainer
Last updated on .From the section Boxing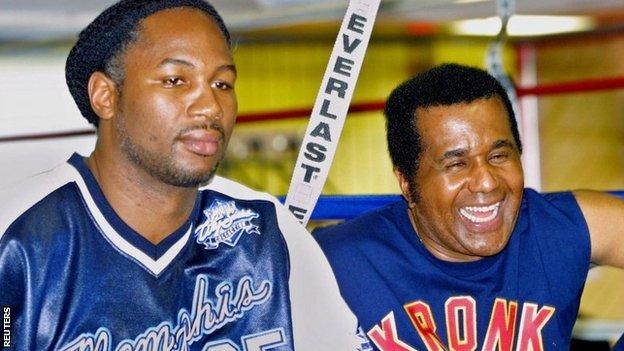 Ex-heavyweight world champion Lennox Lewis has spoken of his devastation at the death of long-term trainer and close friend Emanuel Steward.
Steward trained 43 world champions in a celebrated career, including British fighter Lewis from 1994 to 2004.
"This has been a very tragic year for the boxing world, but today we've truly lost one of its crown jewels," Lewis wrote on his official website.
"I'm completely devastated by the passing of my long-time friend, mentor and trainer Emanuel 'Manny' Steward.
"Manny has helped me get through some of the biggest fights in my career and I only regret that I couldn't return the favour and see him through his biggest fight."
Steward trained some of the most successful boxers in the history of the sport, including Thomas Hearns, Julio Cesar Chavez, Oscar de la Hoya, Evander Holyfield and Wladimir Klitschko.
Lewis went to the American's Kronk Gym in Detroit after losing his WBC heavyweight title to Oliver McCall in 1994.
He subsequently reclaimed his title in 1997 and went on to become the undisputed heavyweight champion of the world.
Lewis, who retired in 2004, was unaware that Steward had been suffering from colon cancer.
"We've maintained a close relationship and the last time we spoke he seemed his usual upbeat self, so it was very disturbing to hear about his illness and rapid decline," he added.
"It is with a heavy heart that realisation of what I hoped were just rumours are now, in fact, true.
"Manny always told me I was the best, but the truth is, he was the best and I'm grateful, privileged and honoured to be counted among his many historic successes."
Steward was in Lewis's corner for his career-defining victories over Holyfield and Mike Tyson.
Following Lewis's retirement, he began working with Klitschko and helped the Ukrainian become one of the finest heavyweights of his generation.
"Manny was giving, selfless, compassionate and stern," Lewis said. "I'm proud to have had him in my corner for so many years.
"I'm extremely grateful for the time that I was given with him and he will be severely missed by all who knew and loved him. I'll miss his smile, his frank no-holds-barred truthfulness and our discussions on boxing and life.
"My prayers and condolences go out to his family at this very difficult time."
Enzo Calzaghe, who trained his son, Joe, to become the undisputed super-middleweight champion of the world during an undefeated career, described Steward as a "genius".
"When they [boxers] went to him they were normal types of boxers; when he taught them they were champions," Calzaghe said.
"To say the least, Emanuel Steward was an exceptional trainer.
"He had the insight to see how to develop a fighter. You try to look at their [boxers'] trends and work on what they have, rather than work with what you have [as a trainer], and he had the genius to select what they had and work with it.
"He was brilliant at that. He was a unique trainer."