Ricky Burns fight is not a mismatch, says Liam Walsh
Last updated on .From the section Boxing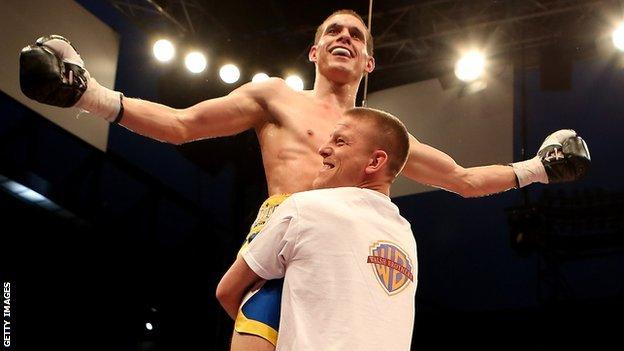 Liam Walsh has said he will not be out of his depth when he faces Ricky Burns for the WBO lightweight title.
Scotland's Burns is the strong favourite to beat the 26-year-old from Norfolk in their
"I know most of the country thinks it's a massive mismatch. I don't see it like that," Walsh told BBC Radio Norfolk.
"I can understand I'm a massive underdog. But in my mind it's not the mismatch everyone thinks it is."
Burns, 29, was in impressive form when taking his record to 35 wins from 37 bouts.
Walsh, the current WBO European lightweight champion, is less experienced, but is unbeaten in his 13 professional outings.
"I've watched Burns a lot," he said. "He looked brilliant against Kevin Mitchell. He's improved loads. He's a world-class fighter.
"I don't think we can look too much into that fight because they had sparred with each other before and from what I hear Ricky did really well in that spar and it would have been a massive factor going into the fight.
"I'd much rather be the underdog. I hate being the favourite. You can get complacent and above yourself.
"I'd much rather go into a world title fight the underdog. It's what makes me tick. I like proving people wrong and it's exactly what I intend to do."