Lee Haskins unable to defend European title in Bristol
Last updated on .From the section Boxing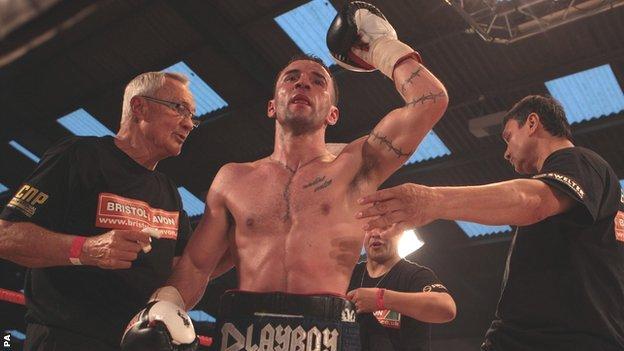 Bristol boxer Lee Haskins has been told he must go abroad to defend his European bantamweight title because there is not a venue in his home city big enough to host the fight.
The 29-year-old will be forced to travel to Belgium to face Stephane Jamoye before the end of the year.
Haskins defeated Darlington's Stuart Hall to win the title in July.
"It doesn't bother me where I fight. I'm just happy to box," Haskins told BBC Radio Bristol.
Haskins, a former English and Commonwealth flyweight champion and the reigning British super-flyweight champion, will be defending his European Boxing Union (EBU) crown for the first time when he faces Belgian Jamoye.
But the Lockleaze-based boxer is no stranger to boxing abroad and insists it is not something that fazes him.
"We'll just have to go to Belgium to defend the belt," Haskins continued.
"I've boxed away plenty of times - I've boxed in Morocco and went over there and won. I'm just looking forward to defending my title.
"If they phoned me up and said 'listen, we can't find a venue in Belgium so we're going to have to put the fight on in his back garden' I would still take it.
"With just his family there, if I wasn't allowed to take any fans or anybody, I'd still go there and fight him and win and bring the European title back."
Promoter Chris Saniger added that Bristol's inability to provide a suitable venue was down to the "same old problems".
"Glenn Catley boxed for the elimintator, for the world title, and had to go to Montreal," said Saniger.
"Then we had the world title fight in Germany when we won it, and then he had to go to South Africa to defend the title.
"That was 2000. Now we're 12 years on and Bristol still hasn't got a venue.
"I don't know who is to blame, but whoever it is should feel very disgusted with themselves. They've let the Bristol sporting public down."