Barry McGuigan supports GB entering World Series of Boxing
Last updated on .From the section Boxing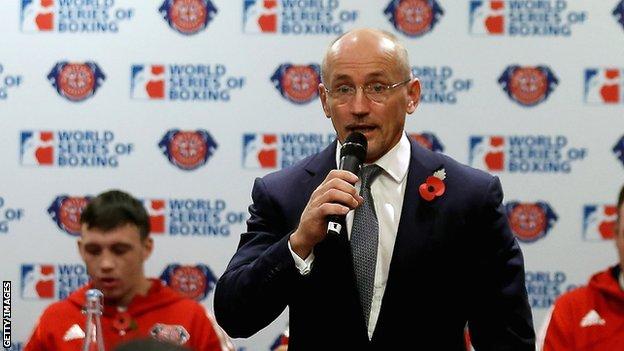 Ring legend Barry McGuigan has backed GB Boxing's inclusion in World Series of Boxing (WSB), saying the event will make the sport "better in every way".
Established in 2010, WSB is an international team competition organised by the International Boxing Association (AIBA), nominally amateur boxing's governing body.
However, WSB is in effect professional, with salaries and prize money.
"It's a chance for the British boxers to earn more money," said McGuigan.
The former world featherweight champion added: "It's a chance to develop their careers, develop themselves personally and give them security."
The team will be known as the British Lionhearts and their squad includes Olympians Andrew Selby, Josh Taylor and
Their first fixture will be against the USA Knockouts in Los Angeles on 15 November before the first home match against Italia Thunder at Celtic Manor, Newport, on 23 November.
The team will be based at GB Boxing's base at the English Institute of Sport in Sheffield.
"They can still use the facilities they have up in Sheffield, will have that huge back-up system around them and they can still compete at the Olympics, the World Championship and the Euros, so it's a no-brainer," said McGuigan, a WSB advisor.
has yet to commit, while bantamweight champion Luke Campbell was ruled out because of weight issues - there are only five categories in WSB rather than the normal 10.
It was also revealed that Ireland's John Joe Nevin, who was beaten by Campbell in the Olympic final, will compete for the Lionhearts, despite Amir Khan recently claiming he had signed the Irishman for his promotional company.
Nevin later announced he had reversed his decision to turn professional, opting instead to remain in the amateur circuit.
Khan said: "It's disappointing that John Joe will be staying amateur as I firmly believe that he has the potential to make big waves in the professional scene. Nevertheless, I respect his decision to represent the British Lionhearts in the World Series of Boxing and do not rule out the possibility of working with him in the future."
The 2012-13 WSB season will consist of two groups of six national teams, with home and away fixtures and the top four teams from each group qualifying for the quarter-finals, which will also be home and away, as will the semis.
The final will be held over two nights at a neutral venue in May 2013.
Each franchise has a minimum of 15 boxers, with each team containing a core of boxers from that country along with a small number of overseas selections from countries who do not have their own team.
Bouts consist of five, rather than the normal three, three-minute rounds and are scored on a 10-point must system, as in professional boxing. Boxers will also compete without vests and headguards.
Ten boxers will qualify for the 2016 Olympics via WSB, with a further 56 qualifying via a brand new tournament, AIBA Pro Boxing (APB), which will launch in 2013 and be run on more brazen professional lines.
Indeed, AIBA president Ching-Kuo Wu believes APB could rival established professional governing bodies such as the World Boxing Council (WBC) and World Boxing Association (WBA). Wu recently said: "The concept of amateur boxing will no longer exist."
McGuigan already believes the code has changed.
"Does the word 'amateur' exist any more at the highest level of sport?" said McGuigan. "I don't think so to be honest.
"Every country in the world has financial structures in place to allow them to have full-time athletes so that effectively means there are no amateurs."
GB director of boxing Rob McCracken has also backed the idea as it will further add to British boxers' experience on the international stage.
"It's all positive," said McCracken. "The boxers will stay part of the GB programme, stay together as a team. They'll get to travel, get more experience and get to box the very best in the world.
"The professional game is very strong and there are some massive names and huge organisations but AIBA making this step is a huge positive for boxers who want to have a career all the way through from amateur to professional."
Evans, 21, said he had offers from professional promoters after competing in London but believes it made sense to remain in the GB Boxing system.
"That was a big possibility [signing with a promoter] but I looked at it from every angle and it seemed like the best option," said Evans.
"We're still training in Sheffield, we've still got all the support staff and the same coaches I've been used to, I don't see why I have to change."
GB Boxing chairman Derek Mapp stressed the organisation has no financial obligation to WSB and that the British team will be funded by WSB itself, through its marketing arm, before further sponsorship is found.