Nathan Cleverly ponders joining Freddie Roach's famous stable
By Peter Shuttleworth
BBC Sport Wales in Los Angeles
Last updated on .From the section Boxing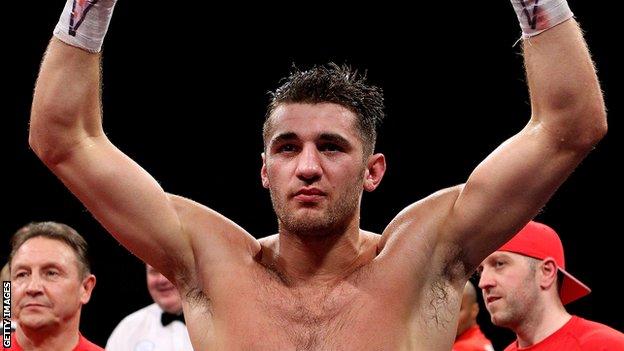 Nathan Cleverly says joining legendary trainer Freddie Roach's famous Hollywood stable is an "option".
The WBO light-heavyweight champion plans to hold American training camps as he wants more fights in the United States.
Roach says he would "love" to train Cleverly, who defends his title against Shawn Hawk in Los Angeles on Sunday.
"Freddie has said some very kind words and is impressed with my sparring," said Cleverly.
Unbeaten Welshman Cleverly has sparred at hall of fame coach Roach's Wild Card gym ahead of his fight with Hawk.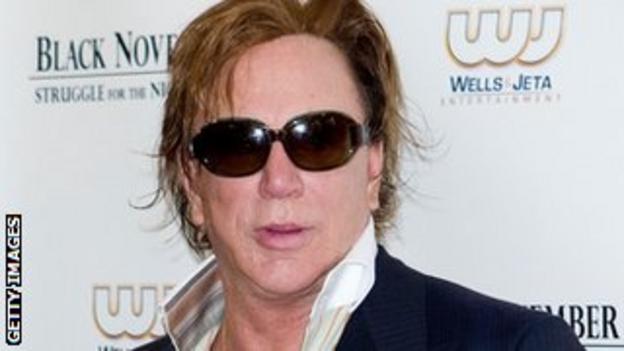 "That is good because Freddie is a renowned top-class trainer and has worked with many of the top fighters so that is a compliment," added Cleverly.
"And it means a lot to me for someone like that to say he'd train me. It may be an option.
"It was a great experience being at Freddie's renowned gym, it is very busy with good fighters and potential top-class sparring partners.
"We'll get this fight done and then we'll decide my next move whether I come out to America for training camps in the future, which I probably will.
"There is a strong possibility I will come here for a lot of my future fights and I've really enjoyed the training and experience in the gym and it is something I definitely want to experience again."
But Cleverly's promoter Frank Warren told BBC Radio 5 live that he does not believe that the Welshman should change his current training arrangements.
"I'm sure Freddie would like to train Nathan but Nathan has been very successful working with his father Vince who has trained him for the past three or four years," said Warren.
"I think it is is a winnning combination and it doesn't need breaking up.
"Freddie is a well respected trainer but at the end of the day if it isn't broke, it doesn't need fixing."
Roach has trained many of boxing's greats such as Mike Tyson, Oscar De La Hoya and Bernard Hopkins, while fighting superstar Manny Pacquiao is his current number one pupil.
He also trained Bolton's Amir Khan before their split in September.
The 52-year arranged tough sparring sessions for Cleverly to help ensure he weighed in at 174.4lb for the 175lb clash, while challenger Hawk was lighter at 173.8lb.
De La Hoya, now president of US promoting giants Golden Boy, admits his company want to promote Cleverly because of his "great potential".
It means that 25-year-old Cleverly's American public relations trip to gain more exposure in the lucrative US marketplace has been a success thus far.
Cleverly, though, must beat and impress against American underdog Hawk in his fourth defence at the Staples Center in order to secure a 2013 unification show with either WBC champion Chad Dawson, WBA title-holder Beibut Shumenov, IBF champ Tavoris Cloud or the great Hopkins.
Welsh singer Sir Tom Jones and actor Mickey Rourke will carry Cleverly's belt into the ring ahead of the bout, which is expected to start at approximately 01:00 GMT on Sunday.
"While I've built up my name in the UK, no-one knows me in the US," admits Cleverly.
"I needed to come here and get some US exposure but it is not just a marketing exercise, I must remain world champion and impress against Hawk if I want the big fights."