Carl Froch vows to make Yusaf Mack pay for Joe Calzaghe insult
Last updated on .From the section Boxing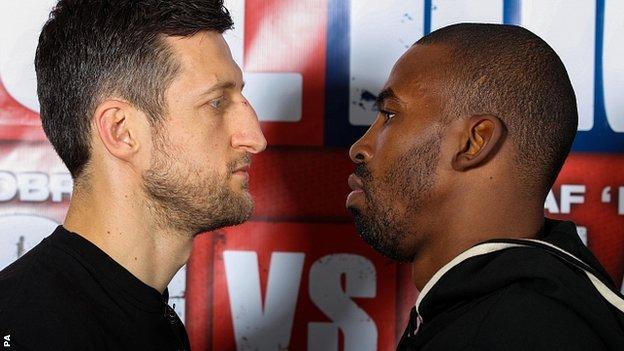 Carl Froch says Yusaf Mack will pay for calling him "a fake Joe Calzaghe" when they meet in the ring on Saturday.
Froch defends his IBF super-middleweight title against the American at Nottingham's Capital FM Arena.
"I'm glad he's started to talk a good game," said Froch, who succeeded Calzaghe as Britain's most dominant fighter but never fought him.
"Come Saturday night he's going to be in a whole world of trouble, he's going to feel some serious wrath."
Three-time world champion Froch was desperate to fight Calzaghe but the Welshman retired unbeaten before he could do so.
But the 35-year-old's achievements in the ring have cemented his position as a British great and he is expected to beat Mack comfortably.
Mack, 32, made his comments in a television interview last month, only days after meeting Froch in person for the first time.
"He wants to be Calzaghe," said Mack. "He wants to fight like him and do all the moves like him but there is only one Calzaghe."
Froch, speaking at a head-to-head news conference on Tuesday, countered: "He had an opportunity to say it to my face, not go 200 miles down the road and say it behind my back.
"He had little to say three or four weeks ago and he's had little to say today."
Froch is coming off a brilliant five-round stoppage of Lucian Bute in May and the Nottingham fighter concedes that night will be difficult to top.
"The night against Bute was phenomenal and the performance backed up the intensity of the crowd," said Froch.
"The whole occasion was epic. A lot of people had me as the underdog then and nobody expected it, so it's going to be difficult to eclipse that.
"But I am here to entertain, I feel like a superstar and I will do the business."
Mack has four losses and two draws in 37 fights and if he is beaten on Saturday, promoter Eddie Hearn is set to plot Froch's future overseas.
A rematch with Bute is penned in for Montreal, while a rematch with Andre Ward, who beat Froch last December, would more than likely take place in the United States.
"This could be one of the last times to see Carl in the UK, potentially ever," said Hearn.
"Carl has unfinished business elsewhere and we're willing to go there, be live on the big American networks and make it happen."