Carl Froch prepares to face Yusaf Mack at one with his demons

By Mike Costello
BBC boxing commentator
Last updated on .From the section Boxing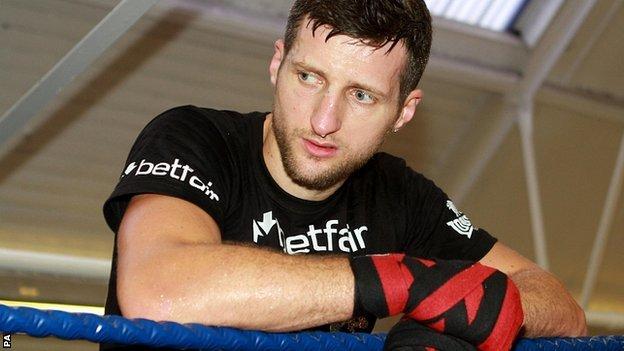 Carl Froch is at one with his demons. Most boxers encounter them, not all overcome them. According to Froch, a fighter's self-belief is truly tested when he lays his head on the pillow at night, when doubts and frailties storm the mind.
The late Cus D'Amato, Mike Tyson's early trainer and mentor, once spoke of how heroes and cowards feel the same kind of fear, it's just that heroes react differently. Fear, he told the teenage Tyson, can build you a house or burn it down.
Froch's warrior attitude has earned him bricks and mortar in abundance, a property portfolio to be envied and which is his reward for compiling the toughest eight-fight streak by a British boxer since World War II.
After winning a version of the world title in December 2008, he has gone on to face all the leading super-middleweights of his era and is now champion for the third time.
His last performance was also one of his best as he relieved the Canadian-based Romanian Lucian Bute of the IBF title in five rounds in May.
Bookmakers and pundits alike made Bute a scorching favourite but Froch upended the odds with a pummelling so one-sided it evoked memories of Joe Calzaghe's destruction of Jeff Lacy with the same title at stake six years earlier. Bute will be well aware that Lacy was never the same again.
Perceptions of Froch changed overnight, a transition he acknowledges as "ridiculous but true". He prefers to make up his own mind about that blistering display in Nottingham six months ago: "If I'd have lost, people would've said I was finished, a good fighter but no big deal. And that would've been people's opinion of me.
"All of a sudden, I'm fantastic, phenomenal. But I don't listen to the hype. People who put you up there can just as quickly write you off and take you down."
His showing against Bute was all the more remarkable given Froch's points defeat to the American Andre Ward last December. In between, he had to dispel the demons.
"I let myself down, which was bad for demons. I was thinking 'why did I do this and why did I do that?' I don't think tactically I would ever have been able to cope with him that night.
"He closed the distance, which I'm not used to. He was good at slipping and ducking and holding, tying me up, hitting me on the break. And he was very fast so at range he'd catch me with a hook or a jab, then he'd close me down. Tactically, Ward is a messy fighter and I wasn't ready for him.
"Also, I just wanted to go home and spend Christmas with (partner) Rachael and (son) Rocco, I wasn't in the right frame of mind."
A rematch with Ward is now the ultimate target. "To win that fight, there'd be nothing else to do. See ya later."
En route, Froch must dismiss Yusaf Mack, a battle-hardened Philadelphian who looked shop-worn in his only other world title fight against Tavoris Cloud at light-heavyweight a year ago.
Mack will have to shed half-a-stone to make the 12-stone super-middleweight limit for the first time in five years and, at 32, his body might not like the idea.
He arrived in Nottingham with an insult, describing Froch as a "fake Calzaghe". Froch glared at him during this week's final head-to-head press conference and asked why Mack had chosen to deliver the jibe at a TV show recorded in London, in the absence of the champion, rather than face-to-face.
Mack couldn't find the necessary response.
Later, he gave me a blunt assessment of Froch's style. "He makes a lot of mistakes, drops his hands and everything he does is wrong, I'm gonna make him pay for it."
It's a familiar refrain. "People have threatened all sorts of things in the past," shrugs Froch. "Whether they're friendly or jive-talkers, I stay cool and calm. This is my ninth world title fight on the spin so I've seen them all. I've fought all sorts of characters."
And seen off a few demons too.