Ricky Hatton comeback: Malignaggi on Hatton v Senchenko

By Paulie Malignaggi
WBA welterweight champion
Last updated on .From the section Boxing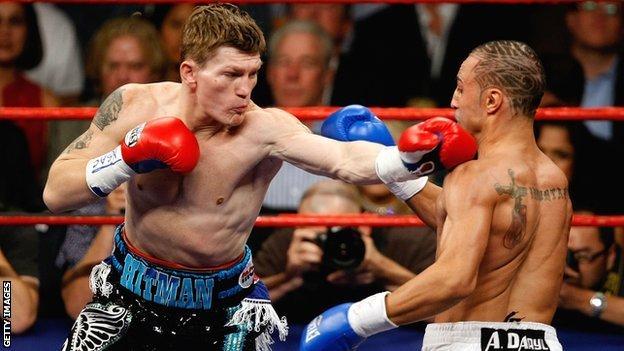 It's all set up for a glorious comeback for Ricky Hatton but I'm surprised he picked a difficult opponent like Vyacheslav Senchenko after three years out of the ring.
I'm wholly aware I'm not a big puncher and that would have been a big part of why Ricky took this fight. But while it's true I stopped Senchenko, it was only stopped on a closed eye.
Here's what I noticed about Senchenko when I fought him: before the fight, I kept saying this guy hasn't fought anybody, hasn't been in with nearly the level of competition I've been in with - and I really felt like he believed it.
When we got in the ring I noticed a look in his eyes, an unsure look, even though he had a supportive crowd around him, even though he was in his home city and the odds were stacked in his favour.
I told myself when I went back to my corner: "Don't give this guy a chance to get any confidence, because he's got none right now." He didn't land anything of note until round four or five and by then he had no confidence left.
If Senchenko has the same mentality against Ricky as he had against me, there's no way he's going to be able to handle 20,000 Brits screaming against him. If he was uncomfortable in an atmosphere that was set up to be comfortable for him, how is he going to be comfortable in an atmosphere that is going to be the exact opposite?
But there's a flip-side. Instead of freezing, he may say: "I lost my world title, I've got nothing to lose, I'm 35, nobody's expecting me to do anything, so I might as well just go out there and fight the way I know how."
If he takes that attitude, he could pose Ricky some problems, make things interesting. A guy who is a boxer, rather than a slugger, who comes out with a confident jab is a lot more difficult to deal with. To a boxer, confidence means a lot. But either way, I don't think Senchenko will win the fight.
The early part of the fight will be key. We may see some ring rust from Ricky, but it's also when Ricky has the chance to take control and take the confidence out of Senchenko completely.
Despite being a solid welterweight, probably the biggest guy I've ever fought, Senchenko is not very physical at all, he doesn't like to be in close. Meanwhile, Ricky is short and was never the most adept guy at moving his head.
So Ricky will try to be aggressive, use his physicality and bulldoze his way inside, taking away Senchenko's height and long, hard jab. And let's face it, we're in England, so Ricky will get away with a couple of fouls on the inside - Senchenko will not have a referee to help him out.
A lot of fight fans will be thinking: "Can Ricky be anything like he was three or four years ago?" The general consensus is that three years off never helps anyone, but I'm trying to look at it from a different perspective.
If there was a style where you could take three years off and still be relatively successful, I think it would be Ricky's. If you fight like Floyd Mayweather, relying on timing and angles and reflexes, and spend a long time out of the ring, your timing becomes totally shot.
But because Ricky was never a guy who moved his head very much, if had he been fighting these past three years, he would have taken a lot of punches, whether he was winning or losing.
A guy like Ricky who takes a lot of punishment to give a lot of punishment doesn't last very long into his 30s. So maybe not taking punches for these past three years might help.
We all know Ricky wasn't living very well and a large part of how effective he is depends on how much he's cleaned his act up. If he's been living well for a year and his crusade to fix his reputation has been genuine, that's a long time clean.
You can see the anxiousness written all over Ricky's face and in the way he speaks, he's desperate to get in there and fight. So I see Ricky being too aggressive early on and taking a couple of shots, and it will be interesting to see how he reacts.
But Ricky's tenacity will be too much for Senchenko to handle, he'll break Senchenko down one round at a time and I can see Senchenko getting stopped late on, or maybe Ricky winning on points.
I want to see Ricky win and I want to see him look good in winning. That will be a big part of his healing process, make him feel better about himself and help put some of those demons to rest.
And if Ricky wins and looks good doing it, it goes without saying a rematch between the two of us will get made. That's what the rumours and gossip say is going to happen and that would be sensational.