Ricky Hatton: Not the greatest but the most loved
Last updated on .From the section Boxing64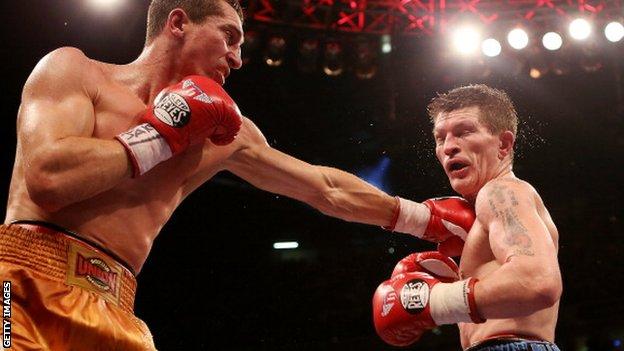 "I haven't got it any more." They are perhaps the saddest words in boxing - and the sweetest. Because too often fighters think it's still there when it's not.
Fighters make the best sporting philosophers: as one American boxer once told me, "if 'ifs' were spliffs, all us boxers would be as high as kites". For three years after his devastating defeat by Manny Pacquiao, Ricky Hatton was high on 'ifs'.
Unable to move on because he couldn't let that memory go: flat on his back in a Las Vegas ring, eyes flickering on and off like a busted light bulb. Wondering what might have been if he'd done this, if he'd done that.
Ricky Hatton, the most compelling British boxer of his generation. Millions in the bank, Bentley parked out front. Slumped on his expensive settee in his expensive home, tears in his eyes, wondering where it all went wrong.
"That's what I did three years ago," said Hatton after Saturday's comeback defeat by Vyacheslav Senchenko. "I made excuses. There's always an excuse to find. But I needed to find out if I still had it. And I haven't. I needed to find out if I can still mix it at world level. And I can't."
Even as the truth dawned, Hatton continued to kid himself: he thought he was four or five rounds up when the end came in the ninth when most ringside observers thought he was one or two rounds down. Whether up or down on the scorecards, it was abundantly clear the magic had gone.
To his credit, Hatton conceded the magic went years ago. Some of it punched out of him over 48 sometimes brutal fights, some of it frittered away in pubs, clubs and curry houses across Manchester. Rub your hand across a bar stool down your local and some of it might come off. His Everest was beating the great Kostya Tszyu seven years ago and he had been descending ever since.
"I put my body through the mire inside and outside the ring," said Hatton. "Too many hard fights, burning the candle at both ends. It doesn't matter how hard you train, when that bell goes a fighter just knows.
"But I've no complaints. I can look in the mirror and be proud of myself and say I gave it my best. No doubt I'll cry tonight but I don't feel like killing myself. I feel happy. Now I want to be the best father I can be to my kids, the best boyfriend I can be to Jennifer and the best trainer and promoter."
"You're gonna get your brain shook, your money took and your name in the undertaker book," was heavyweight legend Joe Frazier's jaundiced take on the sport. Typical of so many fighters who put their lives on the line, provided so much entertainment and faded into relative obscurity without receiving what they believed was their due. Money gone, friends gone, memories fading.
Boxing is perhaps the only sport that makes great art because its history is weighed down with so much tragedy. Take the death this week of Hector Camacho, one of the wildest men of the ring and one of its great entertainers. Killed after a drive-by shooting in Puerto Rico, in a car containing cocaine.
But it is wrong to believe that all boxers end up bitter, broke, brain dead and in an early grave. Many - like Barry McGuigan and Marvin Hagler - find the transition difficult but track down peace in the end. "I realised I was hurting myself and I snapped out of it," said Hagler. "But it had to take time."
It took time for Hagler to disentangle himself from boxing because if a boxer is no longer a boxer, then what is he? And for retired boxers, unlike athletes in other sports, there is often a road back, at the end of which is a tantalising glimpse of what might have been: if they'd done this, if they'd done that.
Hatton is at least making the right noises. When he says "that's the end of Ricky Hatton", they are the words of a boxer trying to separate his future from his past. The words of a man struggling to think of himself as anything other than a boxer. Hopefully he'll snap out of it, but it has to take time.
Ricky Hatton, the fighter, gone. Now it is time to celebrate one of the most remarkable careers in British sport. Not the greatest fighter this country has ever produced, but perhaps the most loved. There is only one Ricky Hatton, we will never see his like again.
"You may think this is arrogant but it will be a long time before anyone brings crowds like I brought," said Hatton, who drew 20,000 for his final fight at the Manchester Arena. "And I'm very proud to take that title into retirement."
Journalists, normally a sour lot, queued up to deliver eulogies at the post-fight news conference. I thought one of them might cry. And it was completely understandable: journalists loved him for his honesty, his courtesy, his humour and the sheer enthusiasm of his performances. Which is why this journalist is sad to see him go, albeit happy and relieved at the same time.