Dean Francis: Bristol boxer sets sights on world title
Last updated on .From the section Boxing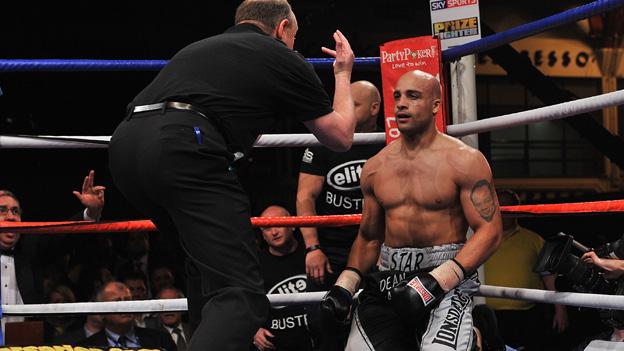 Bristol boxer Dean Francis has set his sights on winning a world title, as he prepares to return to the ring for the first time in three years on Saturday.
The former British, Commonwealth and European Champion makes his comeback against Justyn Hugh for the British Masters light heavyweight title.
"I need to fulfil a goal and my goal is to be world champion," the 38-year-old told BBC Radio Bristol.
"This fight will make me look like I'm a contender."
Francis's last contest came in the Prizefighter cruiserweight tournament in May 2009, where he lost out to John Keeton in the semi-final.
He has been working alongside boxer-turned-promotor Chris Sanigar since February in preparation for his meeting with the unbeaten Welshman and insists: "I'm in the best shape I've ever been in.
"I'm not coming back to the ring because I have to, I'm coming back because of my love for the sport," he added.
"It's a very important fight because in my head I'm the champion of the world but obviously when it comes down to being in the ring it's a different story.
"But I've got every faith that it will happen."
Although he is confident of a result in Newport, Francis says he would consider retirement if he could not overcome his opponent.
"He's young, hungry and undefeated; he's coming in with confidence and confidence can take you a long way. The pressure is going to be on.
"But I think his fitness is all he's got. He's not as skilful as me.
"If I do lose then it's the end of the road for me. I've given it 100% and I can't give it any more. There will be nowhere to go after that.
"But it isn't my intention [to lose]. I think it's already written in the books: Dean Francis: win."