Andrew Flintoff 'needed focus' of boxing after cricket retirement
Last updated on .From the section Boxing97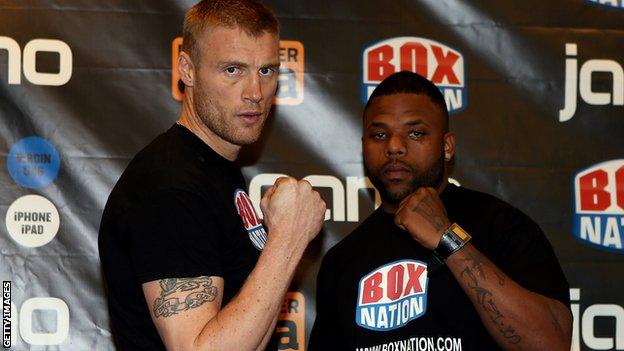 Former England captain Andrew Flintoff says his surprise switch to boxing has filled the void left by his retirement from professional cricket.
Flintoff, 34, faces American heavyweight Richard Dawson in his ring debut in Manchester on Friday.
"I wanted to get back into professional sport at a time when I needed something. I was drifting," he said.
"I needed the focus of being a sportsman again, getting into the gym and working towards something."
Flintoff, who has lost three-and-a-half stone during four months of training, weighed in at 15st 6lb [97kgs] on Thursday ahead of the bout which will take place over four two-minute rounds.
The former England all-rounder announced his intention to move into the ring under the guidance of former world featherweight champion Barry McGuigan and his son Shane in September.
He called time on his Test career following England's Ashes victory in 2009 before retiring from all forms of the game a year later, after a career dogged by knee and ankle injuries.
Boxing promoter Frank Maloney believes the British Board of Control made a "dangerous" decision to grant Flintoff a boxing licence, but the Lancastrian says he is mentally and physically prepared to face Dawson.
"I won't lie - there are going to be a few nerves knocking about. But this is what I have worked towards," he said.
Dawson, 23, arrives in Manchester with a fearsome record. Having knocked out his first opponent in 19 seconds, he broke the ribs of his second challenger on the way to another comfortable victory.
However, Flintoff is unfazed by the American, who he met for the first time in their pre-fight media conference on Thursday.
"I've not got the jitters - everyone has got a story," said Flintoff. "But it's nice to put a face to the man who I've been hearing about. We've seen his last fight on YouTube and we've got to see him in front of us now."
Barry McGuigan added: "Freddie's a decent heavyweight and he has worked very hard. He's a novice like Richard is. It will be a great scrap and a very competitive match."
Dawson, who admits he has no knowledge of cricket, says facing Flintoff is just another fight for him.
"I'm an attacker and I put pressure on. I'm here to win and get it over with," he said.