Ricky Burns in the dark over challenger Jose Ocampo

By Phil Goodlad
BBC Scotland
Last updated on .From the section Boxing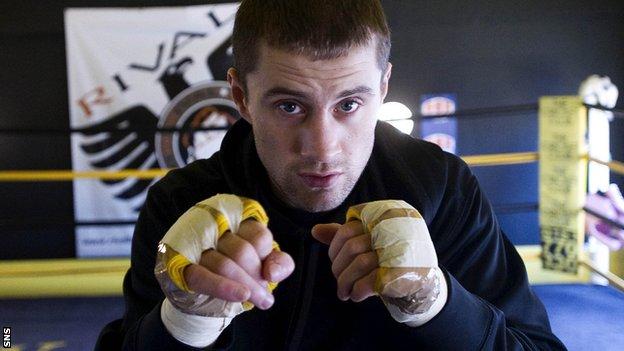 Ricky Burns admits he has little knowledge of opponent Jose Ocampo as the Scot prepares for his third defence of the WBO lightweight title.
The 23-year-old Filipino, ranked 14 in the world, is a late replacement for Liam Walsh, who was injured in a car accident, for the 15 December bout.
"I know he's a southpaw and that's about it," Burns told BBC Scotland.
"[Trainer] Billy [Nelson] has been struggling to get footage. All of his fights have been in the Philippines."
Despite the late change of opponent, Burns, 29, is confident that he is in great shape for the fight at London's ExCeL.
Preparations at Nelson's Fighting Scots gym in Lanarkshire have gathered pace since Ocampo was confirmed last week, with Burns sparring with undefeated super bantamweight Kid Galahad and Terry Flannigan, who recently won the Prizefighter lightweight tournament.
"I was originally scheduled to meet Liam Walsh and he switch-hits, so we had been sparring regularly with southpaws," he explained.
"I don't see it being a problem.
"I'll treat the same as any other fight. I don't really like watching opponents anyway. I like to concentrate more on what I'm going to do in the ring.
"My attitude hasn't changed because there has been a late change of opponent. I'm going out there to do a job.
"Training and preparation has gone well.
"I'm getting a bit grumpy now, but that means I'm ready to fight.
"My wife and my family know - just to ignore me when I go off on one - so everyone is used to it."
Nelson admits he would like to have done more homework on Ocampo but is confident his fighter will emerge victorious.
"It's been very difficult to find footage of this guy," Nelson told BBC Scotland. "I've got a friend in England who managed to get me two rounds; that's it.
"He's a very strong boy, with a good left hand. There are only 13 guys in the world better than him, so it's going to be a hard fight.
"But I think technique-wise, and with his power, Ricky will have too much for him.
"And, rest assured, Ricky has trained for a hard 12 rounds.
"I normally go through hours of tapes. My wife must be going demented with all the DVDs all over the house and me staying up all hours, but that's my job.
"You want as much background as possible.
"But the sign of a good champion is someone who can work out different styles very quickly and I know Ricky can do that."
A unification fight with WBC champion Adrian Broner had been mooted for Burns next year and Nelson remains keen on the prospect.
"It's a fight we want," he said. "Wherever it is, we'll take the fight no bother.
"Ricky Burns will beat Broner. The Scottish public need to understand they have a genuine world-class fighter here - the best we've had for many years."