Carl Froch: Lucian Bute expects re-match
Last updated on .From the section Boxing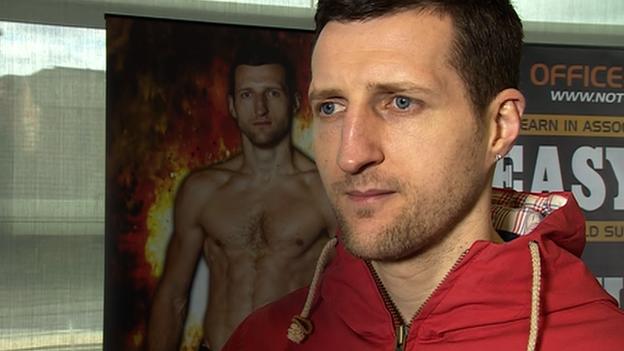 World champion Carl Froch has moved closer to another fight with Lucian Bute after the former champion said he is keen to trigger a re-match clause.
Froch beat the Canadian at the Nottingham Arena in May to win the IBF super-middleweight belt, with a re-match clause in the original contract.
But because the fight was so one-sided, it was thought Bute may not be keen.
However he told boxingscene.com: "I know I want my revenge, no matter when. We have a solid re-match clause.
Bute added: "Froch will come to Montreal in either March or April."
Last weekend Froch, who retained his IBF super-middleweight title with an impressive stoppage of American Yusaf Mack last month, told BBC Radio Nottingham: "He's got to give us an answer by the end of this week.
"What they might say is that we have a re-match later in the year, but that's not much good to us."
The 35-year old has also been keen to face re-matches with the two fighters who have beaten him in his career - the WBC and WBA champion Andre Ward who fights Brian Magee on 8 December.
"If we're going to have the fight, we want to get him out of the way as soon as we can, because the Kessler fight is the big one," said Froch.