David Price v Tyson Fury could happen, says Frank Maloney
Last updated on .From the section Boxing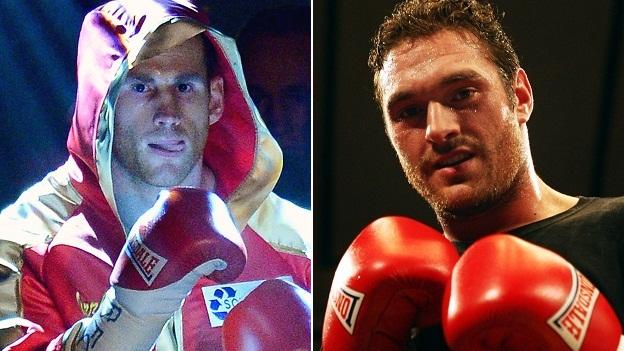 David Price's promoter Frank Maloney remains hopeful of a bout with Tyson Fury despite one bid being dismissed.
Maloney said the Fury camp dubbed an offer to challenge for Price's British and Commonwealth titles as "a joke".
"We could agree not to negotiate in the press," Maloney said. "For the good of British boxing I hope Price-Fury is one of sport's great events of 2013."
Mancunian Fury, 24, recorded his third victory of 2012 after stopping American Kevin Johnson in Belfast this month, and is now one fight away from becoming mandatory challenger for the WBC heavyweight title, currently held by Vitali Klitschko.
"I understand Team Fury's hesitancy because they believe they are close to a fight against one of the Klitschko brothers," Maloney said. "If that is the route Mick and Tyson are going, make that clear and both sides can go their own way."
Maloney, who said Fury's promoter Mick Hennessey dismissed a guaranteed purse of £650,000 for his man to face Price, added: "Since then I have sent Mick an email asking if there is a way for myself and him to sit down to try and make the fight.
"People told me that Lennox Lewis v Evander Holyfield would never be made, but we spent hours around a table and arranged a two-fight deal.
"Price v Fury would be a massive attraction for next summer and both men could have an interim contest before meeting.
"Apart from David Haye fighting Vitali or Wladimir Klitschko it is the biggest contest in the heavyweight division."