Manny Pacquiao will not give up boxing, despite pleas from family
Last updated on .From the section Boxing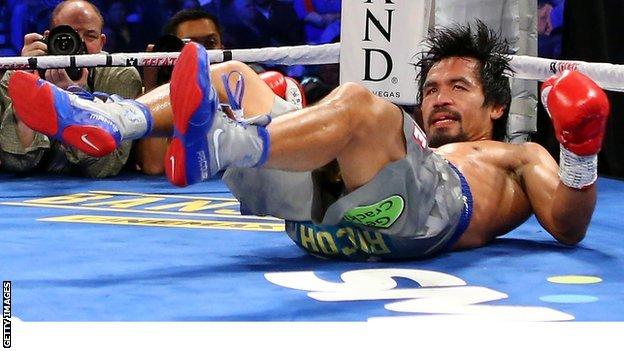 Manny Pacquiao is ignoring pleas from his mother and wife to stop boxing following his defeat by Mexican rival Juan Manuel Marquez.
Pacquiao, 33, listened to his wife Jinkee and mother Dionisia make tearful appeals for the Filipino to quit.
But he said: "I'm looking forward to a rest and then I'll be back to fight."
The defiant stance is at odds with the wishes of his wife Jinkee.
In a television interview she said: "When you see your husband get hurt, you cannot even sleep."
And when asked if she wanted her husband to retire from boxing, she said: "You know the answer to that. He knows what I am asking him."
Pacquiao's mother Dionisia made a separate appeal to her son, asking him to give up boxing and concentrate on his other interests - including his work as a congressman, hosting a television game show and Bible preaching.
"I have long asked you son, it is time to retire because you started boxing at such a young age. I always pray that he will stop. I asked God to tell my son to stop," she said.
Pacquiao, who started fighting professionally at the age of 16, insists his defeat was not a sign of a decline in his ability.
He added: "I am OK. I just got over-confident in this fight. That is part of the game - sometimes you win, sometimes you lose."
The knockout was Pacquiao's second successive defeat after a controversial loss to Timothy Bradley in June. That was his first defeat in seven years and came despite the Filipino fighter landing 94 more punches.
Mexican Marquez, 39, floored Pacquiao to record his first win over the Filipino in their four-match rivalry. Pacquiao had won the previous two encounters, with one drawn.