Amir Khan admits Carlos Molina fight is a 'make or break' bout
Last updated on .From the section Boxing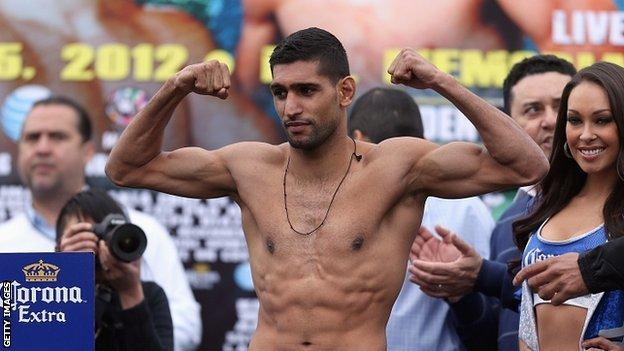 Amir Khan says his bout with Carlos Molina is a "make or break fight".
The Bolton fighter lost his last two fights and will struggle to maintain his status as one of boxing's big draws if he loses in Los Angeles on Saturday.
Both men weighed in for the light-welterweight contest at the Memorial Sports Arena at 139¾lb on Friday.
"It is a make or break fight for me, that's why I'm taking it so seriously," said Khan, 26, who is having his first fight with trainer Virgil Hunter.
Khan's career is at a critical point as he prepares for the bout.
He was knocked down three times in defeat by Danny Garcia in July and now has a 26-3 record.
Khan said: "We will be more than ready for this fight and we will be in the best condition ever.
"Hopefully everything will come together on Saturday and we are going to win this fight and finish the year off strong. That will put us in a good position come next year."
Khan is determined to beat the California-based Molina by a convincing margin having controversially lost a points decision to Lamont Peterson in Washington a year ago - one of two successive defeats.
The British fighter did have his after the loss to Peterson, however, after the
Khan, a 2004 Olympic lightweight silver medallist, intends to change to a more defensive style after being caught by punches when attacking opponents in his last two fights.
He added: "It is always tough to fight someone in their back yard and maybe that is why we are training even harder.
"It has been a tough road. We have fought some big names.
"It is going to be another tough fight. We are going to go in there and do what we do best.
"A win is a win and I will be sticking to the plan and sticking to the instructions from the corner instead of getting too wild.
"People will still see an exciting Amir Khan, but now I'm a more mature fighter."
Orthodox fighter Molina, 27, is unbeaten in 18 fights but has boxed mainly in his home state of California.
He a lightweight stepping up a division and is four inches shorter than his opponent.
And his description of the bout as a 'shot at the big time' underlines his lack of top-level experience.
Molina said: "I am willing to walk to hell and back. This is my shot. This is my opportunity.
"I have to be smart about it. I can't go in there and attack, attack, attack. I have to be smart about it.
"He is a good boxer. We have a good plan for him and we are going to execute it on Saturday."