Alex Arthur says Ricky Burns should be shown more respect
Last updated on .From the section Boxing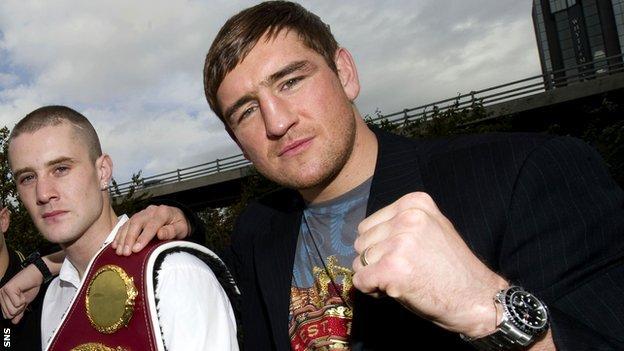 Former world champion Alex Arthur believes Ricky Burns is not being shown enough respect after his title defence on Saturday was cancelled.
Burns' original opponent, Liam Walsh, withdrew after injury in a car crash.
"It doesn't look good. You would think he would have a named opponent by now - and a top calibre name," said Arthur.
"The two matches that were made for him were relatively small by his standards. I think Ricky will want bigger fights than that.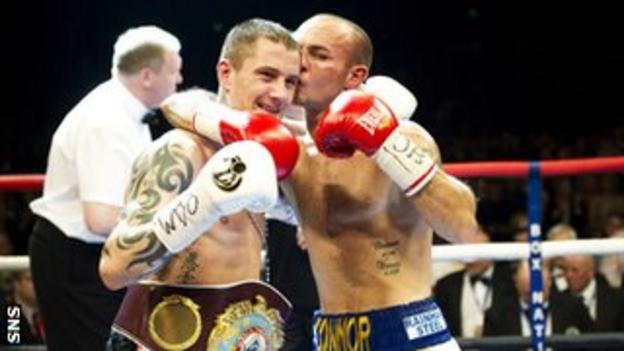 "He's a top calibre fighter and he should be competing in big matches now.
"It's really important for him that he competes at a higher level than the fights he's recently been scheduled at."
Burns' preparations for a potential unification may have been affected, according to Arthur.
"He'll be frustrated," the Edinburgh fighter told BBC Scotland.
"It's important that he's comfortable going into a big unification match and he knows in his own mind that he's competed against a few top-quality fighters."
And Arthur also pointed out that the cancellations would have an impact on Burns personally.
"It'll be affecting him greatly," he said.
"It's coming up to Christmas and he'll have made plans and he'll maybe have made purchases that he might not be able to get, because if you don't fight in boxing, you don't get paid.
"It must be so difficult for him right now to focus on anything apart from what's happening round about him.
"He's had two cancellations now and, knowing Ricky, he'll have prepared diligently for this match - in the region of 12 weeks and I know he likes to train three times a day."