After Marquez-Pacquiao, what next for boxing's fading superstars?
Last updated on .From the section Boxing123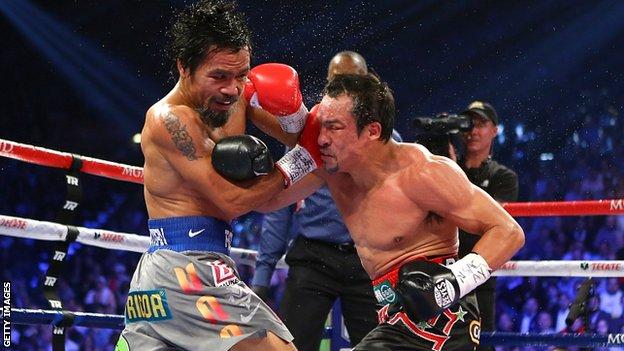 Back in late 2009, when a bout between Floyd Mayweather and Manny Pacquiao was a distinct possibility rather than the stuff of a mad promoter's dreams, I prepared a rough draft of a feature with the headline, 'Boxing's last great fight?'
Three years on and the prospect of Mayweather-Pacquiao feels like an unobtainable Utopia: a once glimmering city, still just about visible but crumbling into dust. Blame Mayweather, blame Pacquiao, blame Juan Manuel Marquez.
Marquez's sixth-round defeat of Pacquiao in Las Vegas last Saturday was proof that, for boxing fans at least, knockouts can be such sweet savagery. An almost imperceptible adjustment of the feet, a slight incline to the left and, boom, a picture-perfect right hand delivered to Pacquiao's chin. Pacquiao flat on his face on the canvas, thinking nothing much.
Certainly not thinking how strange it is that one punch, the result of a chain of neurological and physiological processes triggered in a fraction of a second, might have changed the face of an era - just as Rocky Marciano's so-called 'Suzie Q', delivered to the chin of Jersey Joe Walcott in May 1952, and Muhammad Ali's blistering flurry to dispose of George Foreman in October 1974 changed heavyweight boxing in their respective decades.
But Marciano and Ali were glorious fighters who reigned in glorious times. Mayweather, Pacquiao and Marquez are glorious fighters in a less lustrous age. Promoter Bob Arum might not be mad but he knows these three wee men are the best he has to work with.
It is a frightening thought that there are no truly great fights out there because there are so few truly great fighters currently operating at the top of their game. And by truly great fights I mean transcendental fights, fights that stop the world, fights your mum is interested in.
Mayweather, a five-weight world champion, is certainly a great but he is 36 in February. Former seven-weight world champion Pacquiao is another, but he has been boxing as a professional for 17 years and had 61 fights, losing the last two. Marquez, who argues he won three of his four fights against Pacquiao, is another but is 39 and was made to look small and rather ordinary by Mayweather when they met in 2009.
Regardless, Arum's task will be to convince the public that what the boxing world needs most in 2013 is a three-way tournament between Mayweather, Pacquiao and Marquez. Unless Vitali and Wladimir have a major falling out over Christmas dinner at Chez Klitschko, Arum will be thinking, there can't be anything bigger.
In the United States, Cinco de Mayo (fifth of May) is a celebration of Mexican culture and heritage, which is why it is also fight night. Meanwhile, the unbeaten Mayweather likes to fight in May, which suggests he and Marquez could meet in Las Vegas next spring.
What could scupper the fight is what scuppered the Mayweather-Pacquiao fight, namely a row about drug testing. Marquez's strength coach is Angel Hernandez, a former steroid dealer who testified that he supplied performance-enhancing drugs to American athletes Marion Jones and Tim Montgomery among others. This, allied to Marquez's increased bulk and apparent knockout power, is seized on by the Mexican's detractors.
It didn't help that neither Marquez nor Pacquiao underwent testing of any kind during training, although Marquez has since said he would be happy to let United States Anti-Doping Agency representatives into his gym before his next encounter.
If, as expected, Mayweather were to beat Marquez - last time out he won every round and put Marquez down - then the fight everybody and his mum wanted to take place two or three years ago might actually happen. Even if Pacquiao refuses Mayweather's demands again, Mayweather is likely to calculate he can take his Philippine rival anyway: if Pacquiao has problems with Marquez's counter-punching style, Mayweather will give him fits.
The other option is a further instalment in the Pacquiao-Marquez series, a franchise that had looked like it was running out of steam before their most recent meeting, which was a great fight even before Marquez brought it to such a sudden and brutal conclusion.
But Pacquiao-Marquez V might have to wait in the queue behind Mayweather-Marquez II and, shock of shocks, Mayweather-Pacquaio I - if everything goes to Arum's plan. Which it won't, because it never does in boxing.
Enter Robert Guerrero, who beat former welterweight world champion Andre Berto in a stormy encounter last month. Boxing insiders are tipping Guerrero to beat Marquez to the punch as far as a May bout with Mayweather is concerned. And it would be typical of Mayweather to tear up the plans of others and take the road less travelled.
Indeed, Mayweather might choose to bypass Marquez and Pacquiao completely, tick off Guerrero and finish off his career against Mexican sensation Saul Alvarez next September. Alvarez is 22, 42 fights unbeaten and holds the WBC light-middleweight crown.
A clash between Mayweather and Alvarez could be billed as a clash of generations. And it is a fight the sport of boxing could do with Alvarez winning, if only to demonstrate there is a future beyond the current crop of fading marquee stars.
Meanwhile, Britain's Amir Khan faces his "make or break" fight against the unbeaten Carlos Molina in Los Angeles on Saturday.
Win, and Khan makes himself an option for the big boys again. Lose, and he may have to start facing up to an ugly truth: that super-fights of the kind Arum is currently cooking up may never happen to him, even in this less lustrous age.