World Series of Boxing: British Lionhearts defeat German Eagles
Last updated on .From the section Boxing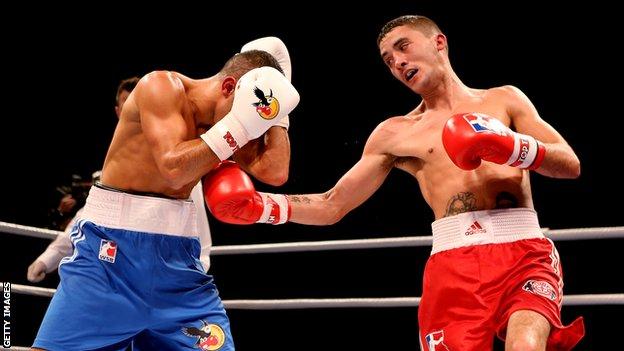 British Lionhearts have won their latest match in the World Series of Boxing (WSB), defeating the German Eagles 4-1 at Earls Court in London.
Lightweight Sam Maxwell narrowly lost the first bout.
But the Lionhearts took control with victories for Joe Ward, Welsh pair Andrew Selby and Fred Evans and heavyweight Joseph Joyce.
It was enough to move the Lionhearts above Germany in Pool B and closer to the knock-out rounds of the WSB.
Rob McCracken, performance director of the British Lionhearts, said: "It was another good performance by the team and I thought all five boxers did very well.
"Sam was very unlucky to be on the wrong side of a split decision which is a shame because he did well in his debut in the competition."
Liverpool's Maxwell, 24, who just missed out in Olympic qualification earlier this year, gave a solid performance but judges scored the fight for the Irishman representing German Eagles, David Oliver Joyce.
Irish light-heavyweight Ward, 19, defeated Satula Abdulai, a European military champion, flooring his opponent in the fourth round before he retired injured - the fight going to Ward on a technical knockout.
"I was in control. I'm very happy with the performance," he said.
Bantamweight Andrew Selby, 23, then beat French pro boxer Redouane Asloum with ease, winning every round on the judges' scorecards against his experienced opponent.
In contrast fellow Welshman Evans, 21, struggled to find any rhythm early on in a tight bout with Vjaceslav Kerber. But the 2012 Olympic silver medallist grew into the fight before his class finally told, ensuring overall victory for the Lionhearts.
The middleweight said: "He was a strong kid, there was a change of opponent and I prepared for someone else. I did swing a bit but there were just a couple of mistakes I have got to learn from."
Heavyweight Joseph Joyce, 27, was always in control as the Londoner closed the evening with victory over Philipp Gruner.
The Lionhearts's next fight will be against Ukraine in January.