Martin Murray: Sergio Martinez is world's best middleweight
Last updated on .From the section Boxing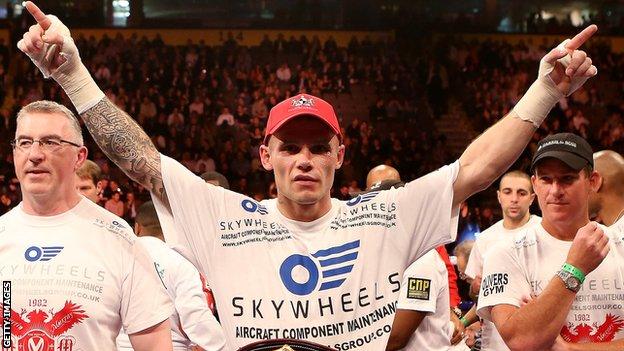 Martin Murray says he will be fighting the "best middleweight on the planet" when he faces Argentina's Sergio Martinez for the WBC title on 27 April.
But the 30-year-old from St Helens, who is unbeaten in 26 bouts, believes he can cause an upset in Buenos Aires.
He told BBC Radio Merseyside: "He's very experienced and he's a very good fighter. He's won 50 and lost two.
"He's world class and I rate him very highly, but I know I can go over there and we know we can do him."
Murray added: "We know it's going to be a hard fight because everything is going to be against us, but we are quietly confident that we can do a job on him.
"We are confident that, one way or another, we will find a way to win."
Martinez, who was voted Argentina's sport personality of the year ahead of goal record-breaking footballer Lionel Messi, will be making his first defence since beating Mexican Julio Cesar Chavez Jr in Las Vegas in September.
"(Murray) is a great sportsman, to be respected," he said. "He's young and strong. It's great that he should want to give his all and I was the same but the fight won't go past the eighth round."
It will be the second time that Murray has fought for the world title. In December 2011, his WBA title bout with - the only professional contest he has failed to win.
"That's got me a bit more prepared for what it's going to be like in Argentina," he continued. "We showed in Germany that we travel well and I'm sure this will be the same."
Part of Murray's preparation for the fight is a six-day trip to South America to promote the fight, the significance of which has taken him slightly by surprise.
He added: "We just thought it was a press conference, but it turns out we're meeting the president of Argentina, we've been invited to Argentina's sportsperson of the year awards and we're live on television with loads of stations over there.
"I know the fight is massive, but this trip is a lot bigger than we first thought. It's giving the fight the exposure in Argentina that it needs because it's a massive fight."