Roy Jones Jr set to fight 48-year-old Steve Collins
Last updated on .From the section Boxing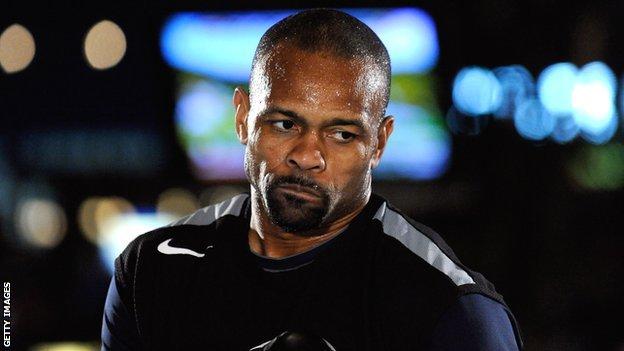 American legend Roy Jones Jr says he is in talks to fight the Republic of Ireland's former world champion Steve Collins, 48, in England in April.
Jones, 44, is a former four-weight world champion and is widely regarded as the best boxer of the 1990s.
Collins, the former WBO middleweight and super-middleweight champion, last fought in 1997.
"I've spoken to Steve and I said 'I don't duck or dive nobody', so it's a very big possibility," said Jones.
"I wasn't looking for him but when he said he wanted to fight me I was like, 'OK'. I don't know where the animosity came from but if that's what he wants, he can get it.
"I said 'hey, I'm sorry it didn't happen when it should have happened, it wasn't because of me - but if that's what you want to do, I don't see no problem with it'."
Earlier, Collins, who beat British greats Nigel Benn and Chris Eubank twice each, told TalkSPORT: "It's a fight Roy Jones needs. He claims to be one of the greatest pound-for-pound fighters around but he refused to fight me.
"I was very happy with my career, but the one fight I wanted was Roy Jones, and when that didn't happen I retired. He was afraid of me. I don't think he's a coward, but at the time he was."
Collins has 36 wins from 39 professional fights and fought some of the greatest fighters of the day, including Mike McCallum and Sumbu Kalambay.
Jones won world titles at middleweight, super-middleweight, light-heavyweight and heavyweight.
He became the first former middleweight world champion to win a world heavyweight crown in 106 years when he beat John Ruiz in 2003.
However, Jones has shown alarming signs of decline in recent years, losing seven of his last 14 fights having lost only one of his first 50, and that on a disqualification.
But asked if it was perhaps time to retire, Jones responded: "If a guy asks to fight me it's very difficult to say no when I'm still looking and feeling so good and still doing my thing.
"The fans never told me I should start so why should they tell me when to finish? They don't know me more than I know myself, so how can they tell me what I should do?
"I've got nothing left to prove in the sport but I want to win a cruiserweight title before I leave, so I've won every title available from middleweight to heavyweight.
"If I can get the cruiserweight title, I'm done, I'm out of here. If that's the goal I set I, of all people, deserve the right to go for that goal because of all I did for boxing."