Tommy Gilmour reflects on his 40 years in boxing

By Phil Goodlad
BBC Scotland
Last updated on .From the section Boxing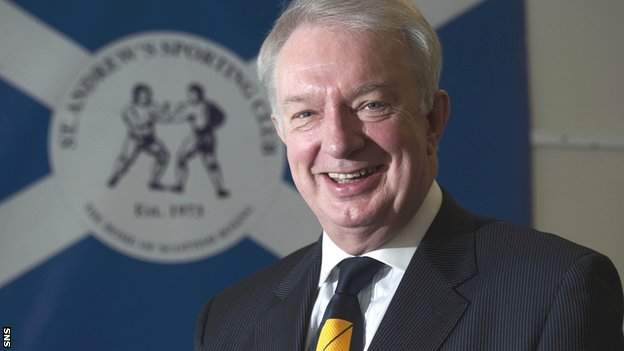 "So, Tommy, didn't you fancy donning the gloves and having a go in the ring yourself?"
The boxing promoter and manager's face breaks into a grin. He knows the punchline - and he knows it's a good one.
Here goes: "Ach, I had a go as a kiddie, but my pencil was always sharper than my jab."
The visitors to Tommy Gilmour's small office in an industrial estate in Glasgow are in knots, though one suspects that Veronica and Stephanie, his wife and daughter who help run the St Andrew's Sporting Club, have heard the gag before.
Gilmour's grandfather was an Olympic boxer.
He regales us with tales of legendary trainer Angelo Dundee coming to his house on the city's southside to see his late father, a boxing manager.
Gilmour himself got his licence to promote fights aged only 18.
His son Chris is in the fight business, too.
With some prompting, he dusts off photos of him holding yet another champion's arm aloft in the ring, of him being appointed an MBE for his charity work and of men in dinner suits watching the boxing.
Surely, for a man so steeped in the sport, he would dearly love to have been a world champion?
"Not for a minute," he says brightly.
"I always wanted to be a promoter. I had never any great interest in being a manager. After all, my father was one of the world's top managers.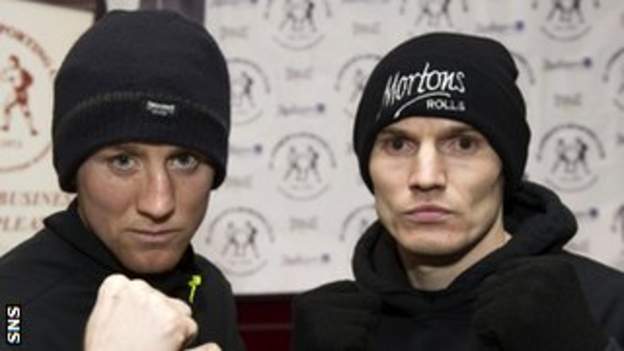 "I wanted to follow in the footsteps of my grandad. I wanted to provide the occasion. I loved the drama of the whole thing, putting the thing together.
"It's hard to describe the pleasure I get from seeing 600 people turn out to see a show I've put on; to see them enjoy their meal and chat to friends and then enjoy the boxing.
"I love fretting about all the details: the tickets, the menu, the weigh-in, the travel arrangements, the media. I get a real kick out of it."
Monday's event at Glasgow's Radisson Blu hotel, where Willie Limond and Eddie Doyle will compete for the vacant Commonwealth light-welterweight title, marks the 40th anniversary of the St Andrew's Sporting Club.
It was opened in January 1973 by Englishmen Les Roberts and Moss Goodman.
The headline bout on its first night was Ken Buchanan v Jim Watt for the British lightweight title.
Buchanan's points win after 15 rounds came just six months after losing his world title to Roberto Duran in a controversial 13th-round stoppage at Madison Square Garden in New York.
That Glasgow bout has taken on iconic status, for it breathed new life into a stale Scottish boxing scene at the time.
Gilmour says:"In the late 1960s and early 1970s there were maybe two or three shows per year in Scotland. The St Andrew's Sporting Club gave regular work to Scottish boxers.
"It was the first of hospitality at sporting occasions. Boxing was at the forefront of that."
Watt, of course, went on to win the world lightweight title, the first of six boxers to fight at the St Andrew's Sporting Club before going on to win world titles, the others being Pat Clinton, Paul Weir, Scott Harrison, Dave "Boy" McAuley and Charles Shepherd.
"Six world champions? It's no' bad," says Gilmour.
"Monday is going to be another fabulous night. It will be the 94th championship fight or eliminator that we have held at the club. That is quite an achievement."
Watt will lead a toast to the St Andrew's Sporting Club once the haggis has been addressed, which is all part of the Burns' Night ritual.
Gilmour's mind will no doubt drift back four decades, when he had a very different role at the club on the night of Buchanan v Watt.
"I was working in the corner, learning my trade, handing up the spit bucket and getting £3 at the end of the night," he recalls.
"A decade and a half further on, I bought the whole thing. I had the most famous promotional company that Scotland had ever seen."
For many years Gilmour ran his business and his shows from Glasgow's Albany Hotel and it was the venue for one of his fondest memories: Stevie Boyle winning the WBC International lightweight title in 1989 against Pedro Armando Gutierrez from Argentina.
"It was like a Busby Berkeley extravaganza!" jokes Gilmour.
"We had pipers, it was filmed by the BBC, we had to take the doors off to get everybody and everything in.
"It was fabulous.
"Also, we are the only private members' club in the world that ever promoted a world championship fight: Paul Weir against Lindi Memani. I'm very proud of that."
Gilmour insists he has no regrets looking back in the fight game but when a question about retirement comes his way, he adds: "We've never had a heavyweight champion. If we can get a British or Commonwealth heavyweight champion, that will be it, full stop."
Well, he may just have one on his books. The unbeaten giant Highlander Gary Cornish, 25, will contest his 12th fight on Monday at the club, against the Hungarian Tamas Toth.
"I wanted Gary to be in action there. This is so that on the big nights he doesn't freeze," Gilmour explains.
And with that, he's off to take calls about Monday's show and dream about guiding a Scottish heavyweight to a major belt.