Anthony Ogogo undecided on Ricky Hatton link-up
Last updated on .From the section Boxing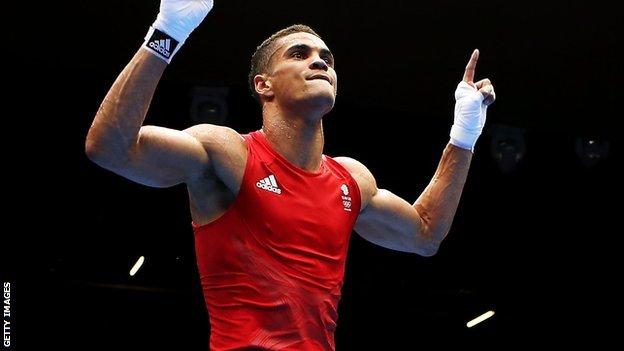 Olympic middleweight bronze medallist Anthony Ogogo, who recently announced he was turning professional, has yet to choose his trainer.
Ogogo, from Lowestoft, has been linked to a possible partnership with boxer-turned-trainer Ricky Hatton.
But that would mean the 24-year-old moving to Manchester, when he has said he wants to stay close to home.
Ogogo's American promoters Golden Boy have previously said they would allow the fighter to choose his own trainer.
The former European silver medallist is scheduled to make his professional debut this spring.
Reports have suggested Ogogo could spend a week training with former welterweight champion Hatton, to assess the values of a partnership, but it is understood that such an arrangement has yet to be confirmed.
Hatton had spoken to Ogogo about promoting the former Team GB competitor, but Ogogo opted to sign with 10-time world champion Oscar De La Hoya's Golden Boy Promotions last month.