Gavin Rees v Adrien Broner: Lloyd Honeyghan shows Rees the way
Last updated on .From the section Boxing44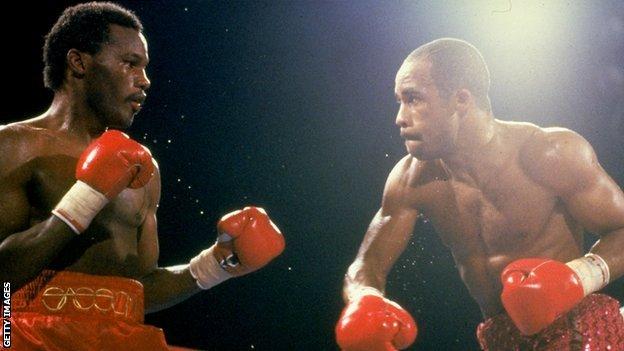 On Saturday, Welshman Gavin Rees challenges Adrien Broner for the American's WBC lightweight title. Rees is being quoted at anything from 33-1 to an almost distasteful 80-1 shot. Harsh, but it is a fight few expect Rees to win.
Only it has been done before. On 27 September 1986, Lloyd Honeyghan upset the odds with victory over American sensation Donald Curry, also in Atlantic City. Honeyghan tells BBC Sport how it was done. Kind of.
Lloyd Honeyghan makes it sound oh so easy. "The plan was simple: all I ever wanted from when I was a kid was sex, partying and training. And to be champion of the world." Didn't we all, Lloyd, didn't we all.
Honeyghan didn't just become champion of the world, he pulled off the biggest upset in the history of British boxing with his demolition of the seemingly invincible Don Curry. If Gavin Rees listens hard enough he may just be able to make out the joyous hollering of one lucky punter that is said to haunt the Atlantic City Boardwalk to this day.
When Britain went to bed that Saturday night, Honeyghan was just the latest British patsy whose valiant defeat they would be hearing about with their cornflakes the following morning. Just another Brit who went bump in the night.
Curry was the undisputed welterweight champion; ahead of even Marvin Hagler in Ring magazine's pound-for-pound rankings. Some who had seen him destroy Welshman Colin Jones in 1985 feared for Honeyghan's health.
Mindful of the huge odds - only two British challengers had left the United States with world titles in the 20th Century, Ted 'Kid' Lewis in 1915 and 1917 and Alan Minter in 1980 - hardly any British journalists turned up.
But this time it was different. While Britain slept, the 26-year-old from Bermondsey via Kingston, Jamaica, was hammering out a miracle. Curry, American boxing's next big thing, was knocked from pillar to post before being stopped in the sixth round. The Lone Star Cobra had been rattled and devoured.
"Donald Curry was transformed from an undisputed champion of the world into a battered former welterweight with lacerations and violated bones where his aura of invincibility had been," wrote The Observer's Hugh McIlvanney, one of the few British press men who made the trip.
Curry, and American boxing, did not know what had hit it. It was well-known that Curry had been struggling at the weight but this was the rightful heir to Sugar Ray Leonard - fighting a Brit in Atlantic City. "I was just some bum they brought over to lose," said Honeyghan. "But I battered him like I said I would."
"I'll tell you how much confidence I had. Before I fought Curry, I was in the changing room and my manager Mickey Duff, who was a big gambler, came running in shouting 'Lloyd, Lloyd, you're 6-1!'
"I said to him, 'what a cheek - go and put $10,000 on me to win'. I kicked the crap out of Don Curry, came back to the changing room and said: 'Mickey, where's the money?' And he said: 'I only put on $5,000'."
It is a wonderfully instructive vignette that manages to convey the glorious highs and seedy lows of boxing, all within a paragraph. The greatest upset in British boxing history reduced to a bet gone wrong, either side of "I kicked the crap out of Don Curry".
Who said romance was dead?
"You don't know my make-up," says Honeyghan, in an attempt to explain the origin of this indomitable will and bluntness of delivery. "I came from poverty and everything you got you had to fight for.
"I was treated like a piece of dirt by the people who were supposed to be looking after me in boxing. Don Curry was fighting a guy on a mission. It was do or die. My mentality was, 'listen, the only way you're going to beat me is if you kill me'.
"I didn't care if anyone thought I would win, I just wanted to punch this geezer's face in. The worst mistake Don Curry ever made was signing the contract for that fight."
Honeyghan is probably right. The following year, Curry stepped up to light-middleweight but was knocked out by the fearsome Mike McCallum when challenging for his WBA crown. The suspicion was that Honeyghan had already greatly diminished him. Certainly, Curry was never the same fighter again.
Honeyghan, meanwhile, carved out a name for himself as one of Britain's most enduring champions - so much more than a one-hit wonder. He made five title defences in two stints as world champion between 1986 and 1989 before retiring in 1995.
But it is for going to the United States and showing that Brits weren't necessarily stiffs that he will always be remembered, even if few have repeated the trick. Nigel Benn managed it, wresting the WBO middleweight crown from Doug DeWitt in 1990 before knocking out Iran Barkley in one round; and Ricky Hatton did it, taking the WBA welterweight title from Luis Collazo in 2006.
"I laid the ground for people like Nigel Benn, Gavin Rees and every British fighter that has fought in America since," says Honeyghan, still a regular at British fight nights and difficult to miss with his fedora, fur coat and cane.
"Before I beat Curry, British fighters would go to America and say: 'I'm going to have a go.' Whenever a British fighter goes to America now, people say: 'Be like Lloyd Honeyghan, go out hell for leather, go out there to win'.
"It makes me feel good that I was able to demonstrate that these people aren't invincible."