Nathan Cleverly boosted by Bernard Hopkins fight talk
Last updated on .From the section Boxing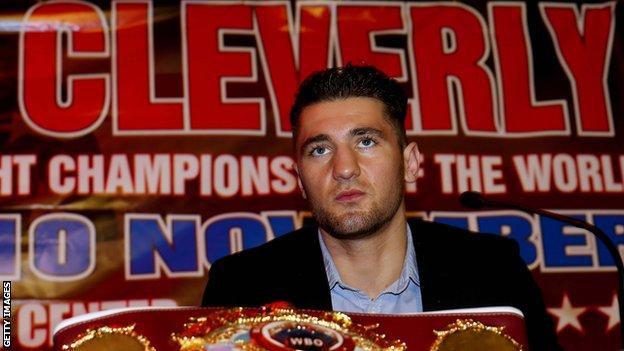 WBO world light-heavyweight champion Nathan Cleverly wants to fight Bernard Hopkins and promises to end the American's career.
"It was great to read that Hopkins wants to fight me as I've been calling him out for a while and he's the name that I want on my record more than any other," said Cleverly.
Cleverly defends his title against Robin Krasniqi on .
Hopkins, who has won 52 of his 62 fights, must fight IBF title-holder Tavoris Cloud in New York on March 9, before he can fight Cleverly.
The American is aiming to break his own record as boxing's oldest ever world champion by beating Cloud and says a fight later in the year against undefeated Cleverly would be a real possibility.
Chad Dawson is the current WBC light-heavyweight title holder with Kazakhstan's Beibut Shumenov holding the WBA version and American Cloud the IBF champion.
Cleverly, who has won all 25 of his professional fights, had hoped victory over Krasniqi (39 wins and two defeats) would lead to a bout against one of the division's other champions.
But the 25-year-old has been told he must face former WBO champion Juergen Braehmer should he defeat Kosovo-born Krasniqi.
Cloud, who has a 100% record from 24 fights, will defend his title against Hopkins, the former WBC light-heavyweight champion, on 9 March.
But Cleverly says Hopkins' name is the one he wants stamped on his CV.
"He's a great fighter, a definite hall-of-famer, and the name that will take my career to the next level," said Cleverly.
"But I'm confident in my skill and ability and know that if he fought me it would be his last fight,"
"It's my aim to unify titles and I agree with what Hopkins said about every division should have one king and not wanting to walk around with three other people carrying world titles."
"I hope he gets through Cloud and wins the title then we can look to unify the titles at the end of the year, if not, then I'd be happy to take on Cloud."
Cleverly, 26, admits he is now concentrating on getting Krasniqi out of the way and then has mandatory challenger Juergen Braehmer to deal with.
"Krasniqi is the first and only thing on my mind at the moment," said Cleverly.
"I've always said that I want to challenge myself against the best and I'm building towards that now.
"I've got Krasniqi and then Braehmer to deal with and then hopefully Hopkins."