Ricky Burns signs with Eddie Hearn's Matchroom Boxing

By Phil Goodlad
BBC Scotland
Last updated on .From the section Boxing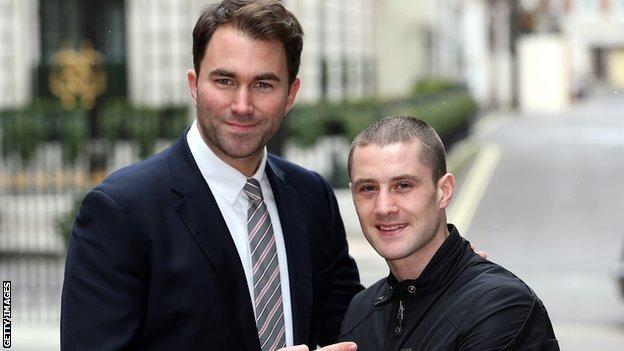 WBO lightweight champion Ricky Burns will fight in Glasgow on 11 May after signing with promoter Eddie Hearn.
However, Burns may have to battle on two fronts as his former promoter Frank Warren has announced he will take legal action against him over the switch.
Burns says he is looking forward to getting his career "back on track" after his last two fights were postponed.
But Warren said that he has a contract with the Scot.
A statement published on the Warren's organisation website on Monday afternoon confirmed his intention to sue the Coatbridge boxer.
It said: "Since being promoted and managed by Frank Warren, Ricky Burns has earned just approaching three quarters of a million pounds and has had seven world title fights in just over two years.
"Ricky Burns is under binding promotional and management contracts.
"Following the announcement by Eddie Hearn that Ricky Burns has signed with him, W. Promotions Limited and Frank Warren are suing Burns for substantial damages."
It appears that the final straw for Burns came when
The Filipino was himself a stand-in for Burns' original opponent, Liam Walsh, who was injured in a car crash ahead of his title challenge.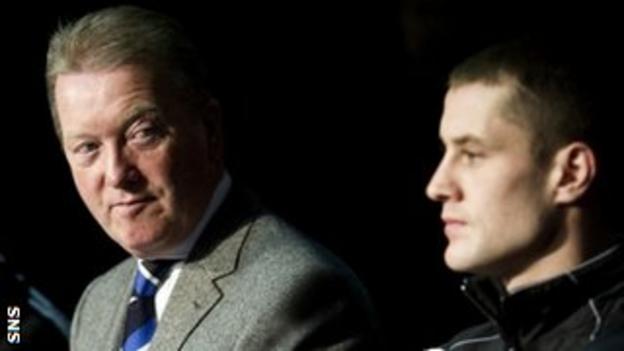 Burns, who will become a father in the summer, told BBC Scotland: "The last couple of weeks have been a bit of a nightmare. Me and [manager] Alex [Morrison] have made the right choice.
"I appreciate everything that Frank Warren has done for me in my career. Both he and Alex got me where I am today.
"But over the last year or so things hadn't been working out. There were a few issues that needed to be resolved and that didn't happen.
"It left me with no option but to look elsewhere. I knew Eddie Hearn was the man we wanted to go to. I believe under Matchroom [Boxing] I can get my career back on track."
Asked if he felt let down by Warren, Burns replied: "I think 'let down' is putting it lightly but that is in the past now.
"We are here to talk about the future and the way Eddie was talking about building me I am really looking forward to see what it holds.
"He knows the big fights I want. He said because of the support I have in Scotland he doesn't see a problem in bringing these big names to Glasgow.
"I am just glad I have some stability in my career now and I can just concentrate on the boxing."
Hearn, who seemed relaxed about a legal challenge by Warren, wants Burns to follow his bout in May with fights in September and December, all part of the promoter's vision to build his profile on satellite TV and to replace the fighter's frustration with confidence.
"If he is going to go into these big unification fights you need momentum," said the promoter.
"The only way to do that is build him into a superstar, make him feel great but also keep him in regular fights, and that's something that hasn't been happening.
"The short-term plan is 11 May; the long-term plan is to unify the division.
"I don't believe Ricky is big enough to headline his own shows in London, in Birmingham, in Manchester, but he will in time.
"But when you've got that market already in Scotland you need to capitalise on that.
"In order to make him big enough you have to build him on a platform like Sky Sports and in an arena that is packed with people.
"He works in a sports shop on a Saturday and Sunday. He is a two-weight world champion. He is a special type of person. I think the whole of Great Britain will embrace him in time once they meet him properly."