Dereck Chisora claims 'boxing is dead' and needs characters
Last updated on .From the section Boxing75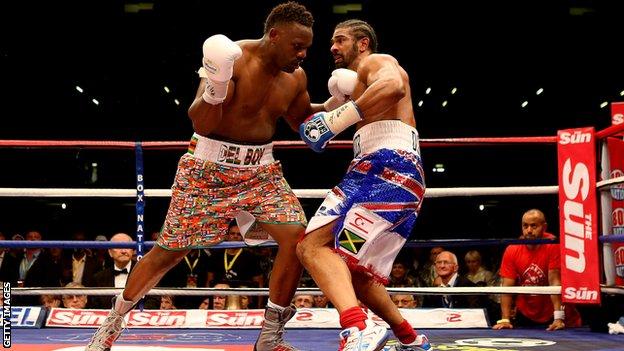 Dereck Chisora says that boxing is "dead" and personalities like his will get the sport greater attention.
But the heavyweight maintains he has no concerns about negative perceptions of him in the sport.
"Boxing is dead and you need people like me to bring it back up," Chisora told 5 live Boxing.
"Someone has to take the bad role and as long as people are tuning in and watching the sport that I love, I don't mind."
Chisora was banned by the World Boxing Council after the fracas with Haye but his subsequent fight against his fellow Briton, which Chisora lost in the fifth round, was sanctioned by the Luxembourg Boxing Federation.
The Londonder, who has undertaken anger management classes, is set to fight Ondrej Pala on 20 April and is targeting a fight with David Price later this year.
He added: "I don't mind going to Liverpool in the summer time for a big fight against David Price. I did take [anger classes] but I've kind of stopped now. We'll see one day if it's worked."