Olympic medallist Michael Conlan likely to go pro before Rio Games
Last updated on .From the section Boxing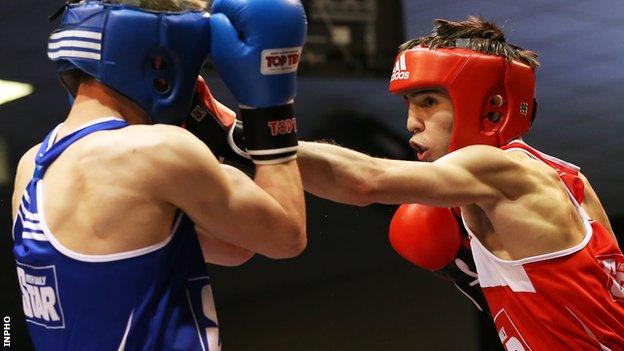 Olympic bronze medallist Michael Conlan has hinted that he is now open to offers to turn professional.
The Belfast man has previously said that he was keen to remain on as an amateur so that he could compete at the 2016 Olympics in Rio.
However, Conlan has now said that he might opt to turn pro after the 2014 Commonwealth Games in Glasgow.
"I am not looking to turn pro right at this minute but I don't want to wait too long," he told Irish-Boxing.Com.
"Maybe after the Commonwealth Games or if I medal in the Europeans and the Worlds maybe after those.
"I will be looking to fight at bantamweight or light-fly most likely and lighter fighters peak at around 25 or 26. I want to be established by the time I reach my peak.
"After the Commonwealth Games I will look at it but if a good offer came I could jump ship earlier."
Conlan's brother Jamie is already in the professional ranks and is on the verge of landing a British title fight.